This is a departure from the original purpose of this blog, but this trip was definitely on my ghost town "bucket list," and the window of opportunity to visit this particular site is closing little by little. One day, the last remains of the mining town of Picher will be swept away forever, brought down by the Federal government's wrecking ball. And the demolition process has already begun.
Of the various mining ghost towns such as Cardin and Zincville located in northeastern Oklahoma, Picher was the big daddy of them all. Located just north of historic Route 66 in Ottawa County, at its height in 1926, Picher had a population of 14,525, most of whom were involved in lead and zinc mining operations at the town. Mining activity was so extensive that there was almost one mine shaft or bore hole dug for every man, woman, and child in Picher. If anyone from the United States Armed Forces fired a shot at the enemy during either world war, chances are good that the lead in that bullet was mined in Picher. As the mining operations tapered down, however, so did the population. The mine shafts were abandoned, allowing water to collect in them and become contaminated by the mining waste. Eventually, it bubbled to the surface again as an acidic red soup that left burns on flesh and killed all aquatic life in nearby Tar Creek. And all 40 miles of these abandoned mine shafts are still chock full of this poison.
To make matters worse, some of the abandoned shafts caved in, leaving sinkholes throughout the town, including one behind Picher-Cardin High School. Lead contaminated the town's water supply, resulting in a spike in cognitive disabilities in many of the children who drank the water. On top of everything else, an EF4 tornado slammed into southern Picher in 2008, killing eight people and injuring many others while destroying a lot of houses and buildings in the area. This turned out to be the last straw for the doomed community.
Picher is now the epicenter of the Tar Creek Superfund site, considered one of the most toxic sites in America. The municipality has been officially dissolved, but there's still a handful of diehards who refuse to leave. Less than 20 people are left, including a pharmacist who has vowed to keep his shop in downtown Picher open as long as someone remains in the ghost town. The Federal government has been knocking down abandoned buildings in Picher since 2011 because of the danger of lead contamination from these structures. I visited Picher in early March during a nasty rainstorm, but I was able to snap some pictures of the few remnants of Picher that the Federal government and that tornado in 2008 haven't demolished yet:
Remnants of downtown Picher - the surviving pharmacy is on the left-hand side behind the tree
The abandoned Picher Mining Museum
Picher-Cardin High School building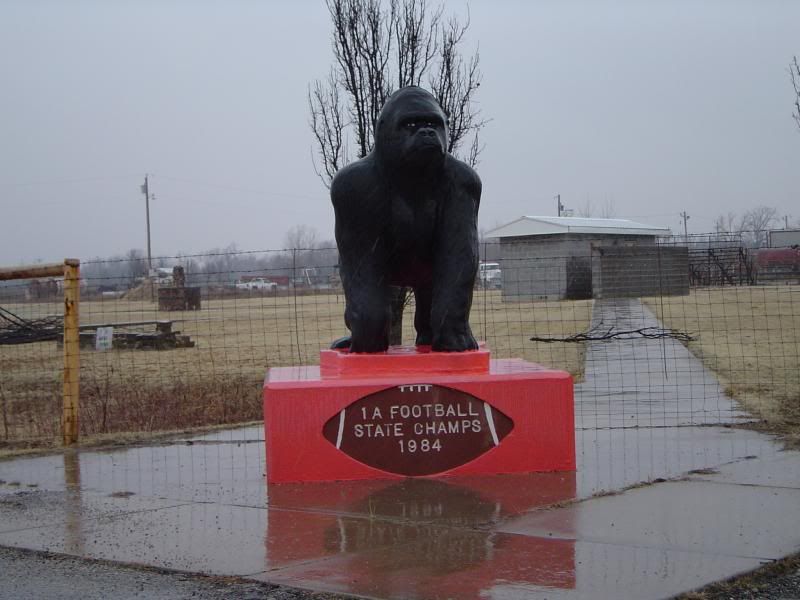 In honor of the once-formidable Picher-Cardin football team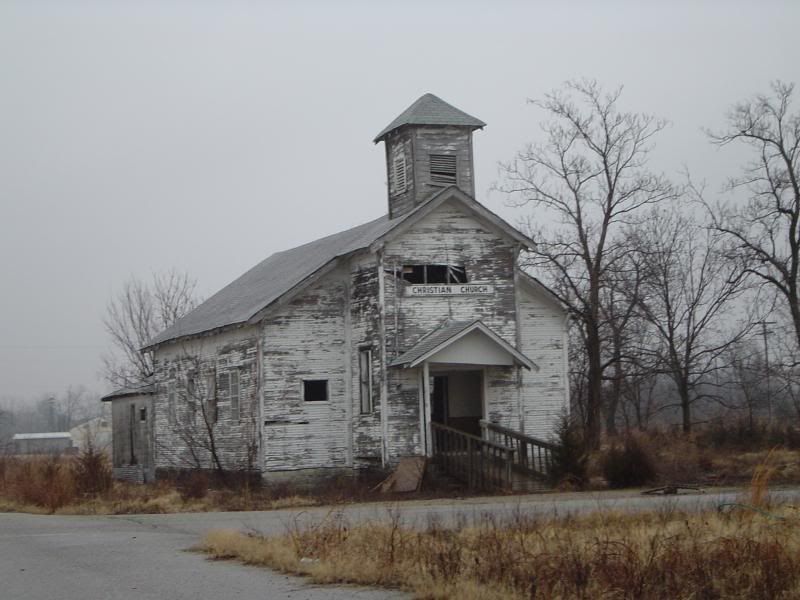 Forsaken remains of a Disciples of Christ church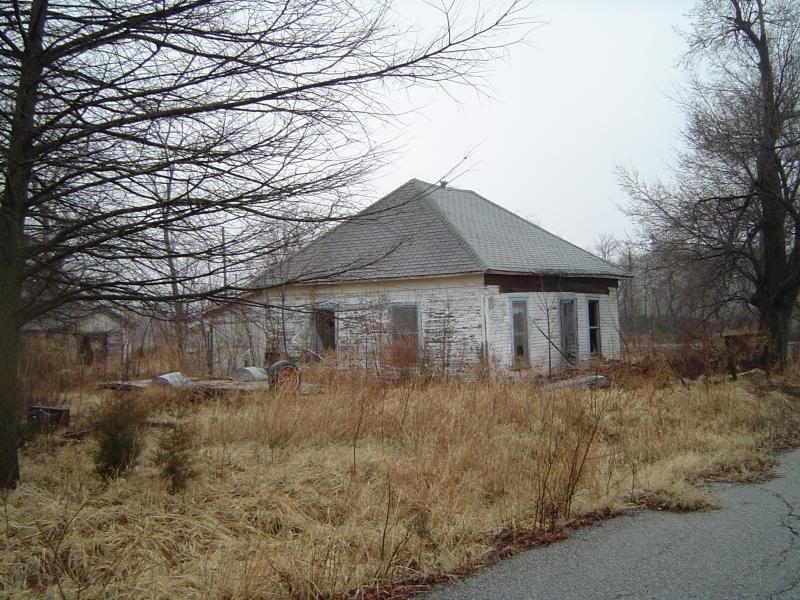 A small house in Picher, abandoned but still standing for the time being
As I mentioned earlier, I arrived at Picher during a bad rainstorm that never let up. This was probably a good thing, as the rain weighed down any airborne sediments from the contaminated chat piles that surround Picher, immense mountains of mining waste infiltrated by lead, zinc, and cadmium. If not for the rain, I might have been able to take a few more pictures, perhaps even visit Tar Creek or one of the sinkholes. Under the circumstances, however, safety and discretion were the order of the day. Highway 69 runs right through Picher, but nobody stops here anymore. If you wind up with a flat tire in this town, you simply limp southwestward until you reach Commerce or Miami if you know what's good for you.
Still, these few reminders of Picher remained - for now. One of these days, they'll be demolished, and the rubble will be cleared away. The very name of Picher is being removed from state maps, leaving behind only a network of paved streets that will lead to nowhere except sinkholes, toxic groundwater ponds, and mountains of chat as well as the tainted land, far beyond the current ability of the government to decontaminate. A visitor in the future might stop in the middle of this wasteland, intrigued by some broken or rusted remnant - some discarded masonry, the skeletal remains of a water tower - and ask herself what used to be here so many years ago.
As for me, I'm turning my attention back to Texas ghost towns for the foreseeable future. But there might be another out-of-state field trip or two somewhere down the line.
I've also created
an ambient Mixcloud essay
of my visit to Picher using field recordings from the townsite if you'd like to check it out.