When I first started my personal ghost town project in May 2010, the first townsite I visited was that of Belcherville, which is located a short drive west of Nocona in Montague County in northern Texas. There was no real strategy for visiting Belcherville first; I was on my way north to Oklahoma City when I decided to make a side trip west of Interstate 35 on Highway 82 and visit a couple of ghost towns that T. Lindsay Baker had documented in his book
Ghost Towns of Texas
. Six miles west of Nocona, I turned north on FM 1816 and followed it up for about a quarter mile, and there it was.
Belcherville intrigued me so much during my short visit that I knew I'd have to come back someday, which I finally did in October 2011. During my first visit, it was just me, my trusty camera, and Baker's book in the front seat. Since then, I've taken advantage of various Web resources, satellite maps, and various accounts from others who have visited Belcherville or even lived there in the past. I've had to change many of my first assumptions of the ghost town as a result, and my appreciation for this abandoned town has grown significantly. Amanda Warr, editor of
The Squawker
,
has described Belcherville
as "a photographer's oasis of gutted old structures, abandoned homes, and overgrowth of purple sage, mesquite and spindly live oaks." Frankly, I can't top her description of the ghost town by myself - I'd better let my photos do most of the talking.
A short bit of background first. Belcherville, established in 1887 as part of a land promotion enterprise by Alex and John Belcher, enjoyed a short but happy boom period during which the population grew to at least 2,000, with thirty businesses serving the population. The Belcher brothers laid out the townsite apparently in anticipation of the extension of the Gainesville, Henrietta, and Western Railway. Indeed, the destruction of nearby Red River Station by a tornado in 1890 caused the denizens of that town to move further down the tracks to resettle in Belcherville, leaving Red River Station to become a ghost town in its own right.
The details of Belcherville's demise are a bit murky. The railroad eventually extended out to the still-active town of Henrietta, a few miles east of Wichita Falls on Highway 82, and this drew away some of Belcherville's townfolk; but what really brought Belcherville to its knees were a couple of fires that gutted the town. In
Ghost Towns of Texas
, Baker gives the date for the first fire as February 6, 1893, but the Texas State Historical Association claims that
the fires erupted shortly after World War I.
Oral tradition from some of the people who stayed at Belcherville states that the business district was burned down by people from the other side of town, so someone from the business district retaliated by burning down whatever was left - in other words, Belcherville self-destructed. Only a few of the buildings were rebuilt, because everyone was headed off to greener pastures in Nocona or Henrietta. In 1930, there were only 85 people and five businesses left in Belcherville; in 2000, only 34 people still resided at Belcherville.
And what does Belcherville look like today? I mentioned photos, so here goes: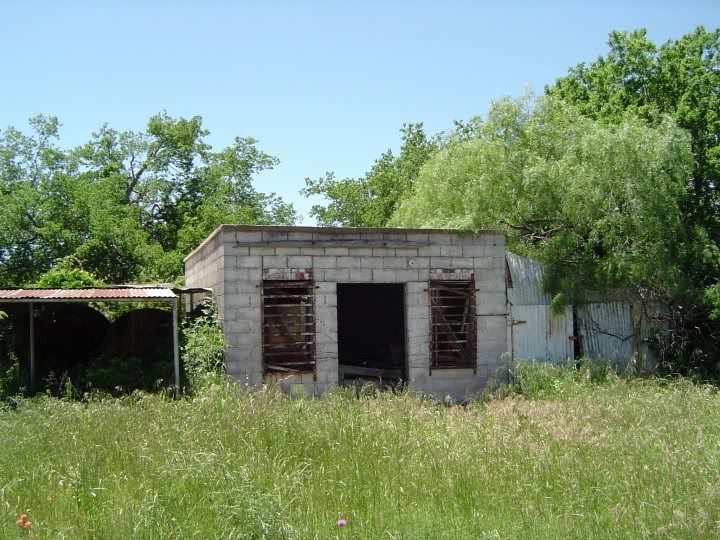 A former gas station and post office at the heart of Belcherville; once operated by the Blevins family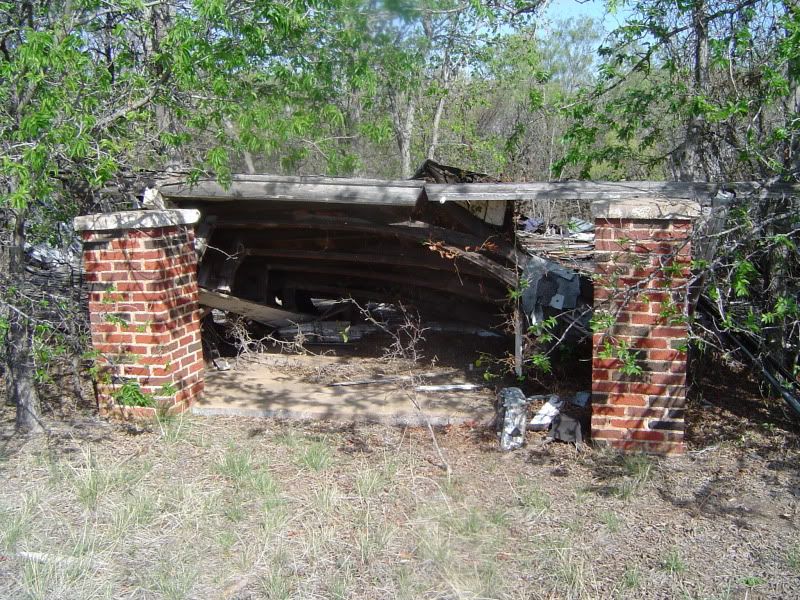 The entrance foyer to the abandoned Belcherville Church of Christ, which collapsed sometime after 1992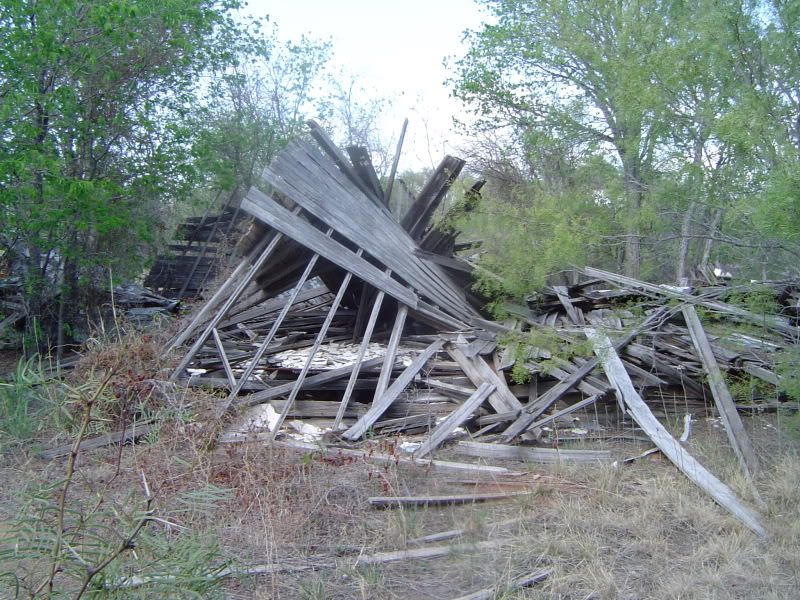 Another view of the ruins of Belcherville Church of Christ
I've been told that the church sanctuary still contained pews, hymnals, and various other sundries before the roof collapsed. Want to excavate any of these from underneath the roof? You're braver than I am. Bring a first-aid kit, and I hope you like grasshoppers...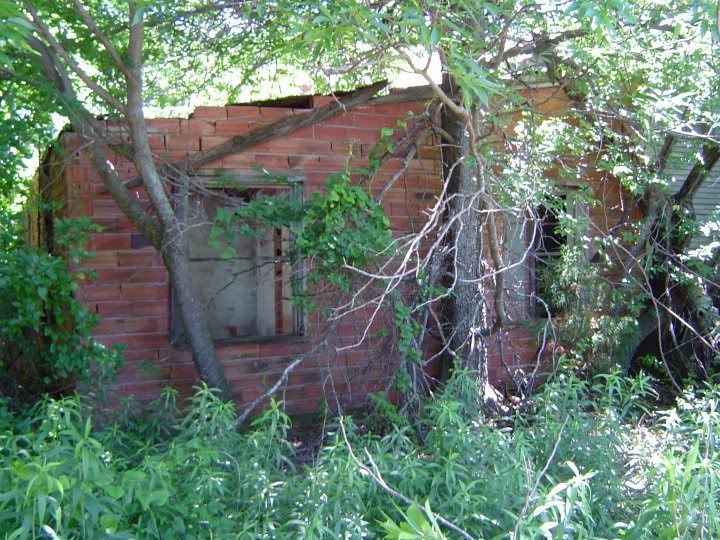 Exterior shot of Belcherville Baptist Church at the intersection of Belcher Avenue and Bonham Street, now hidden behind trees and foliage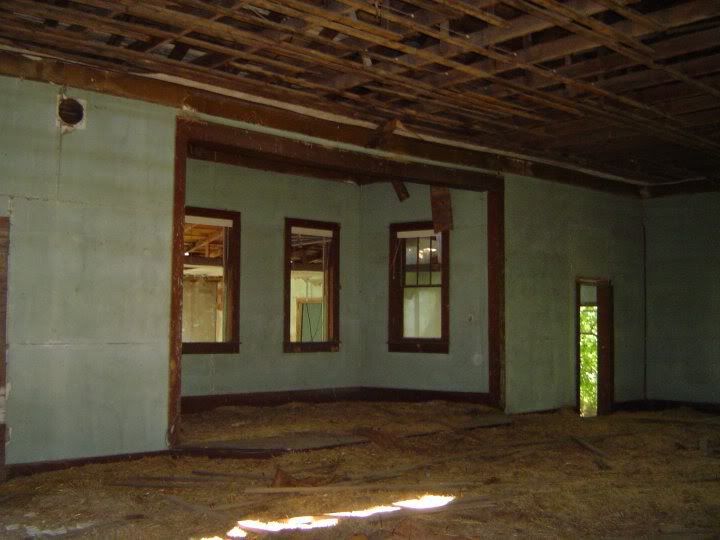 Interior of Belcherville Baptist Church's sanctuary with minister's pulpit
When I first discovered this abandoned school, I regarded it as another church. Then I found older photographs and testimonials from former students of Belcherville High School that seemed to confirm that this was a school building instead of a church. Not true, according to a former resident of Belcherville; this
is
a church after all. One more reason why studying history is so important - it's so fragile.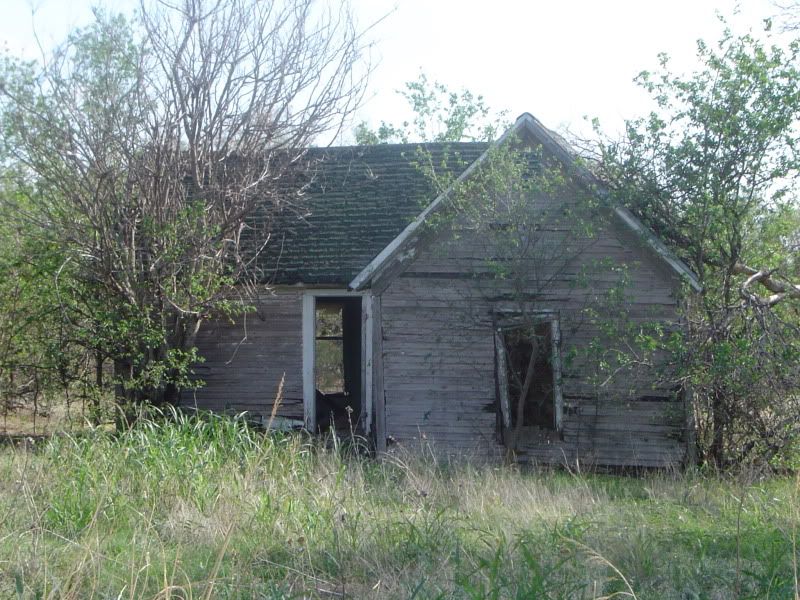 The abandoned Manley house in Belcherville on Elm Street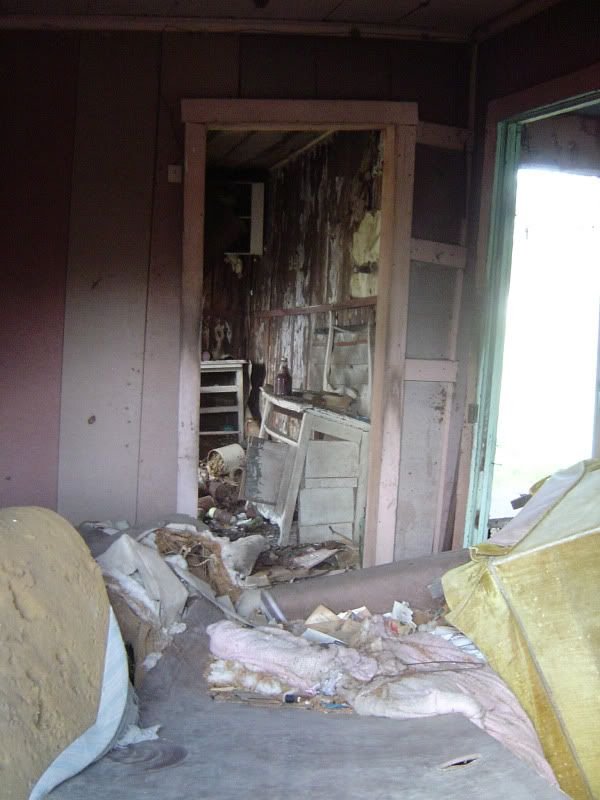 Abandoned furniture and debris inside the Manley house; the doorway leads to the deteriorating bathroom
A word of caution - when I explored the Manley house, it groaned and creaked whenever the winds picked up. This house may not remain upright by the time you make it out to Belcherville, so take advantage of the cooler autumn temperatures and see it now while it lasts.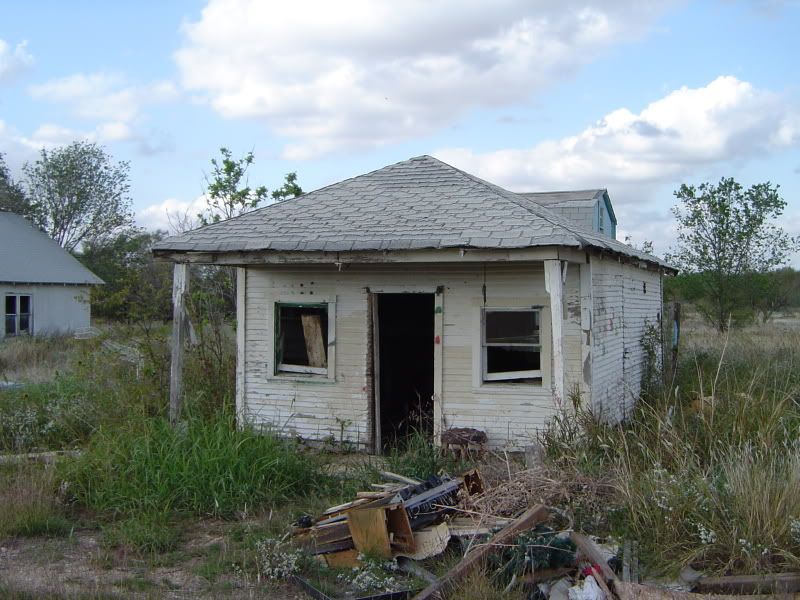 Abandoned Belcherville gas station and grocery store, once operated by the Vannoy family, right off of Highway 82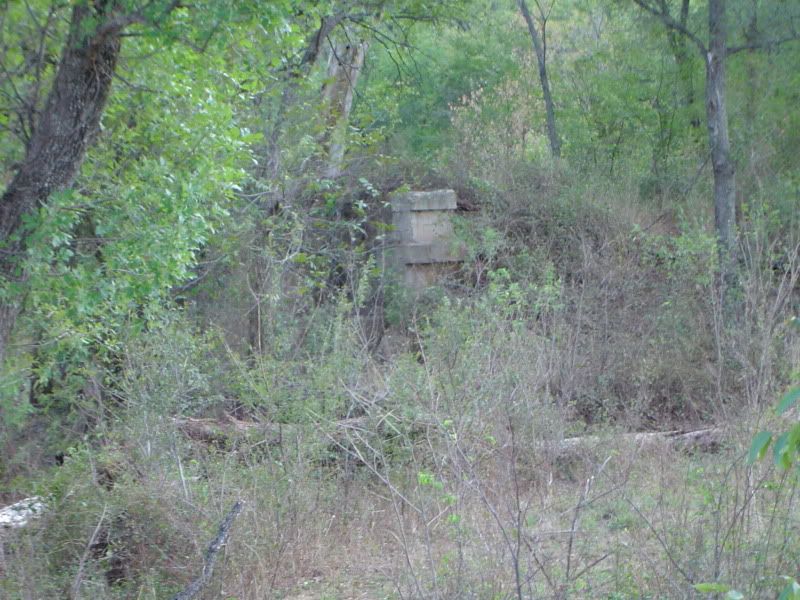 Intriguing stone ruins on the extreme western edge of Belcherville, now on private property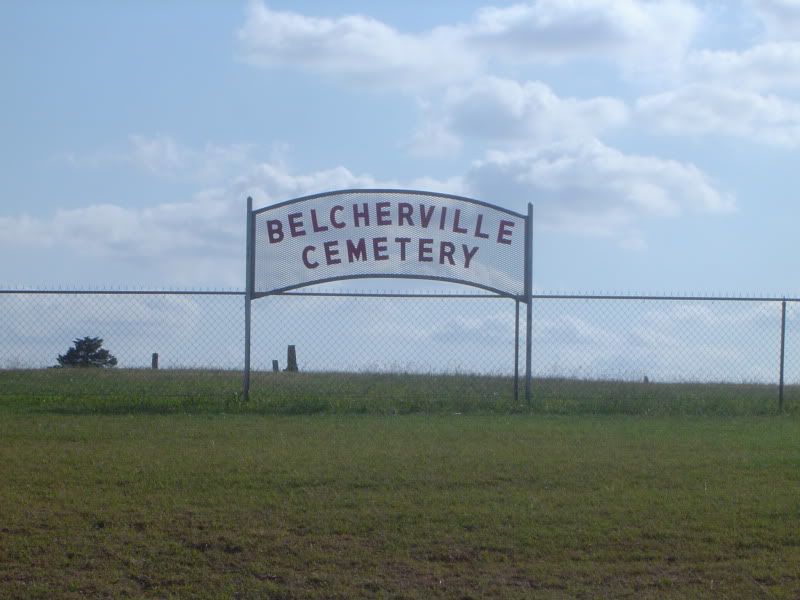 Sign near the front gate to Belcherville Cemetery, on Crenshaw Road west of the town center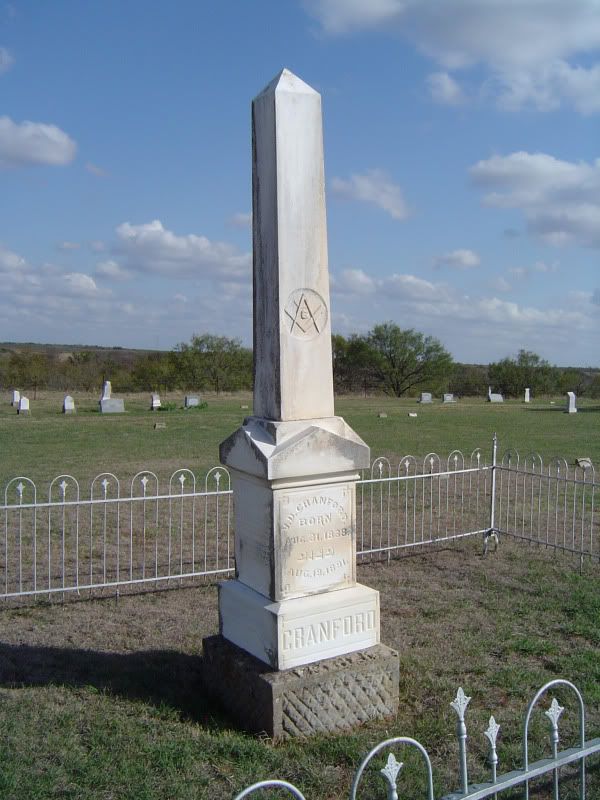 Handsome tombstone of Belcherville Freemason V.D. Cranford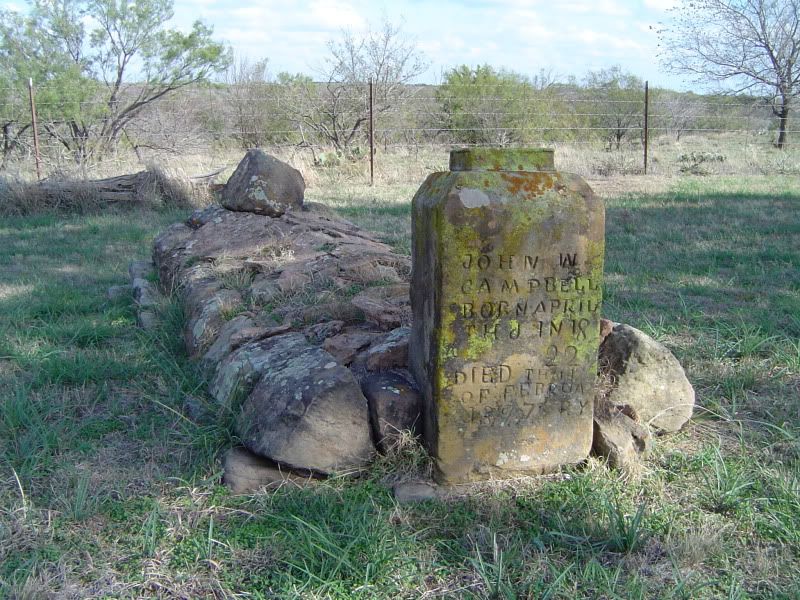 Primitive stone grave of John W. Campbell with hand-carved grave marker
There are many gravestones at Belcherville Cemetery where either the letters have weathered away or there never was any inscription in the first place. This plot, however, is the most isolated of all the plots at Belcherville Cemetery - and, in my estimation, one of the most poignant cemetery plots I've seen: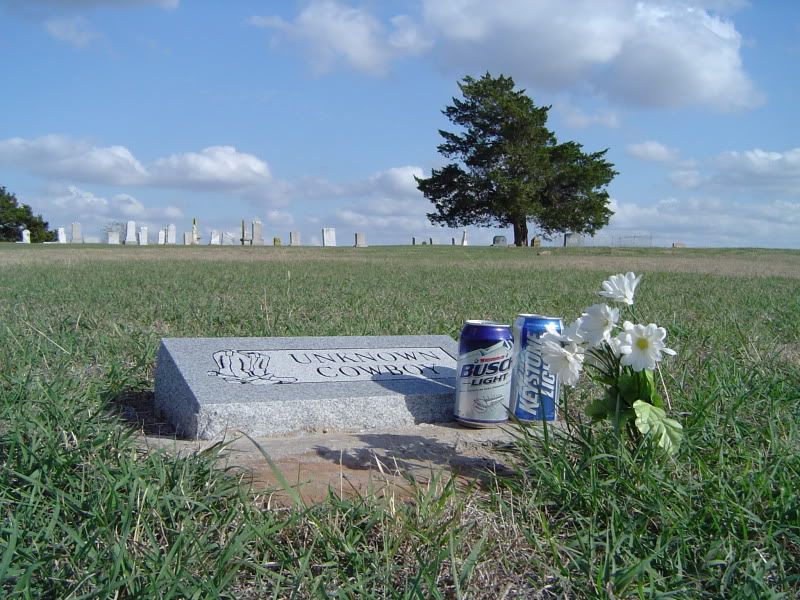 "Unknown Cowboy" buried at Belcherville Cemetery - unknown, but definitely not unloved
I hope this photo essay has inspired you to make your own trip to Belcherville and visit these sites on your own. Be sensible, be safe, and by all means,
enjoy.PS
- Amanda, if you're reading this, I have yet to visit Big Fatty's Spankin' Shack in Valley View. I'm a big fan of
Clark's Outpost
in Tioga, myself. But maybe I'll take the Big Fatty's challenge next time I'm in the neighborhood.