UPDATED DECEMBER 22, 2013 - Unless hard evidence for the alleged Kaufman County town of Nix is discovered, I am forced to concede that the story behind Nix appears to be a hoax. I am otherwise keeping this blog post intact, but the reader is asked to please treat the information contained herein as spurious. It's a shame that misinformation can drive people to waste time and energy chasing down something that never existed, and it looks like it was my turn to get snookered. My apologies for any inconvenience that has resulted from all this.
If you've been following this blog for a while, or if you've done a lot of research into Texas ghost towns, you've probably realized how frightfully easy it is for a town to vanish not only from the map, but also from recorded history. That's one of the reasons why I have wasted little time in posting photographs I have taken at the site of what used to be a Kaufman County town called Nix.
So far, I have found precious little information about this forgotten community; what little I did learn about Nix was unearthed by
Michael Depolo of the Ghosttowns.com site.
Nix does not appear in either
Rand McNally's 1895 US Atlas
or
their 1900 map of Texas railroads
despite being incorporated in 1878, possibly because of the town's close proximity to Forney. The Texas State Historical Association doesn't even mention Nix on
their normally helpful website,
although they do discuss another ghost town called Nix in Lampasas County (which I have yet to visit). But if you head down US Highway 80/Interstate 20 into Kaufman County and exit at FM 460 (aka Clements Road) between Forney and the East Fork of the Trinity River, you should find a street sign that still carries the name of the old townsite to this day.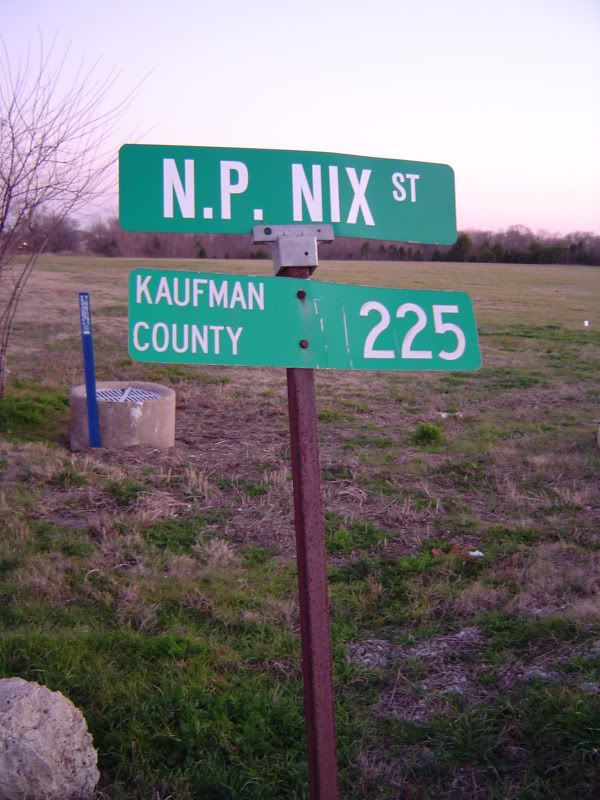 N.P. Nix Street, aka Kaufman County 225, aka FM 460, aka Clements Road
What used to be the town of Nix is now a set of barren fields north and south of Highway 80, bisected by FM 460. There's a Knox Truck Stop with an adjacent Subway at the northwest corner of the intersection, but the folks I talked to at the truck stop (now considered to sit on the outskirts of Forney) had no memory of any community called Nix.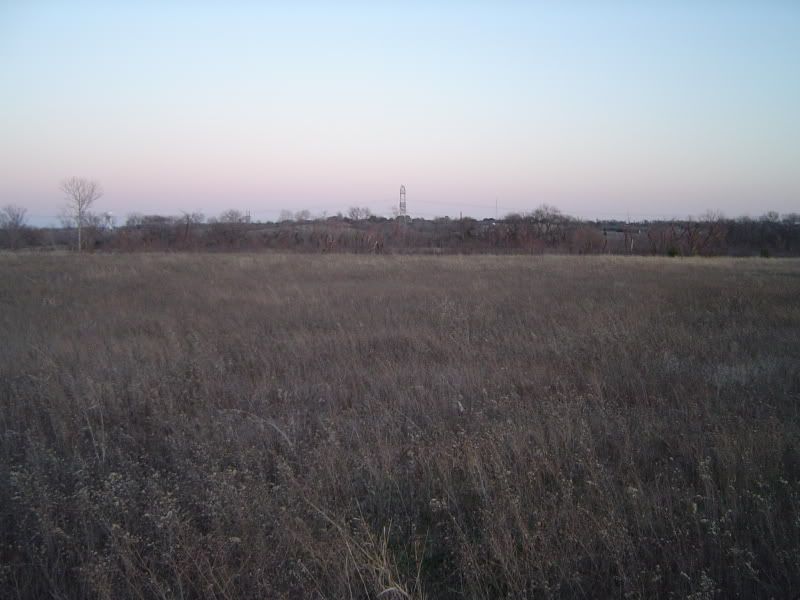 What most of the townsite of Nix looks like today
According to Depolo's research, a local farmer named Nicholas P. Nix established a store just west of Forney in 1868, and for a while the story competed heavily for business with Haught's Store (now part of Mesquite) in neighboring Dallas County. Nix's Store was essentially a Reconstruction-era version of Carl's Corner - by 1872, 105 settlers had relocated to the area, and the Town of Nix was formally incorporated on December 20, 1878, with a population of 265, with Nicholas Nix serving as the town's first mayor. Nix reached its peak in 1885 with a population of 550 served by two general stores, a city hall, a bank, a hotel, a barber shop, a saloon, a school, a church, and a post office.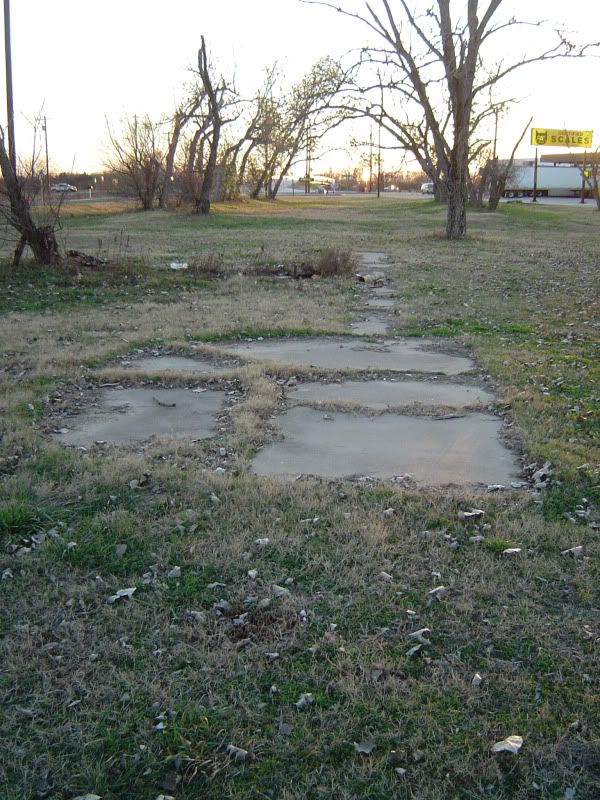 Neglected sidewalk and foundations for a building in Nix, adjacent to an abandoned well
Many up-and-coming towns met with a slow demise because they were bypassed by the railroad, and Nix was no exception - in 1890, the Texas and Pacific Railway Company chose to lay its tracks across Mesquite instead of Nix. By 1900, the population of Nix had dwindled to 248. And here is where the town's misfortunes really began.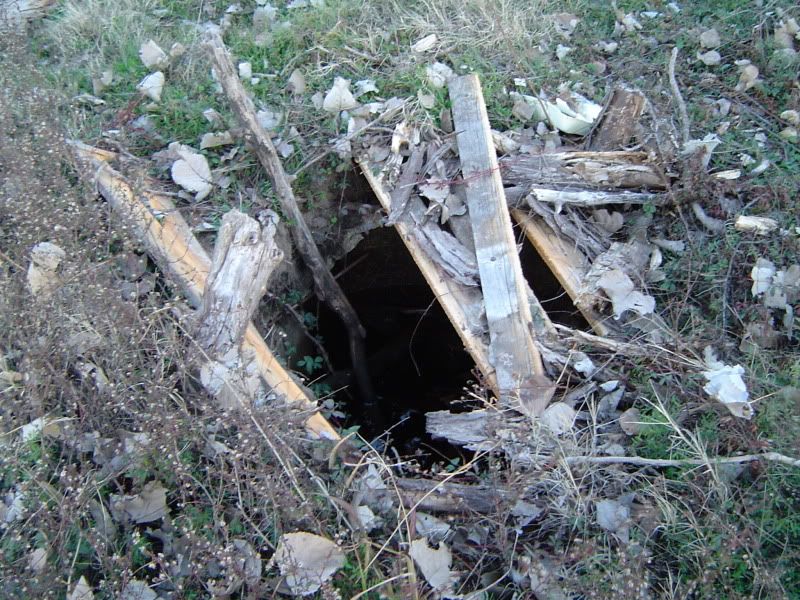 Closeup view of the abandoned well in Nix - approach with extreme caution
In 1902, a fire raged through half of the town of Nix, destroying the school and many other buildings. A second fire in 1916 ravaged almost everything that was left over from the earlier blaze. By 1920, only 51 people resided at Nix. It was the last year that Nix was enumerated as a municipality.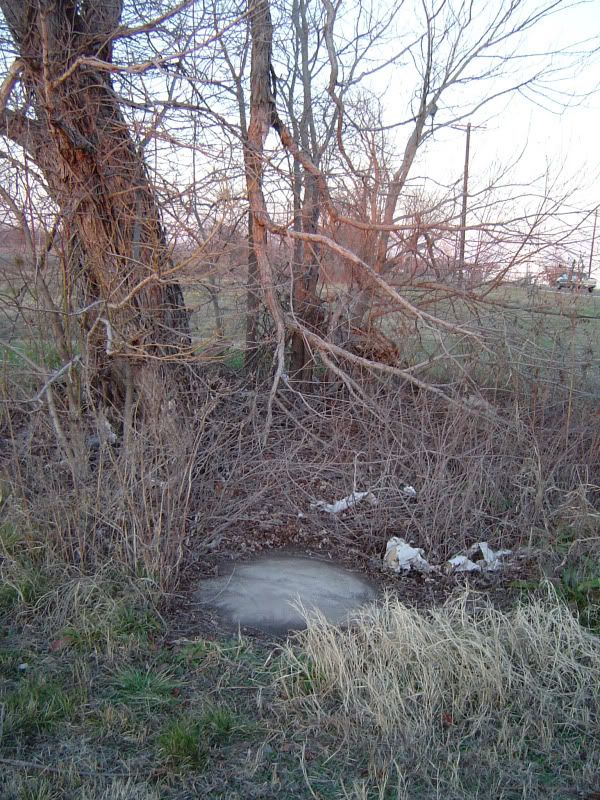 Foundations of Nix almost completely obliterated by soil and foliage
Discarded and charred wood, quite possibly a castoff remnant of Nix
Supposedly, the Town of Nix had its own cemetery, but my understanding is that all of the graves were moved to as-yet-unidentified new location. Depolo claims to have found ruins of Nix to the south of Highway 80, but all of the ruins I have found so far have been to the north. A second expedition to Nix may be warranted for the near future. If you want to visit the townsite, you might want to go before too much time passes - real estate companies are offering much of the land for sale, so it could very well be that the last vestiges of Nix will vanish forever before you know it.