Once upon a time,
I talked about ghost towns in Texas that have completely vanished from the map,
preserved only in the memories of historians and those whose ancestors lived in these communities. Those of you who live in the Dallas/Fort Worth area probably noticed substantial population growth in Collin County over the past 25 years, but as cities such as Frisco, McKinney, and Plano continue to expand and flourish, there is one town on the northern edge of Collin County that has, for all intents and purposes, disappeared.
Mantua (pronounced
MAN-too-AY
in case you were wondering) was one of the oldest towns in Collin County. Mantua was born in 1854 when a delegation that included James Webb Throckmorton, a state legislator and future Texas governor, purchased 200 acres from one of the sons of Texas hero Collin McKinney; on February 23 of that year, the delegation set aside 25 of those acres for development of a town and a seminary. Proceeds from the sale of town lots were intended to finance construction of the seminary, and in order to ensure a less ungodly environment in which the seminary could operate, Mantua's town fathers forbade gambling, horse racing, prostitution, and sales of alcohol.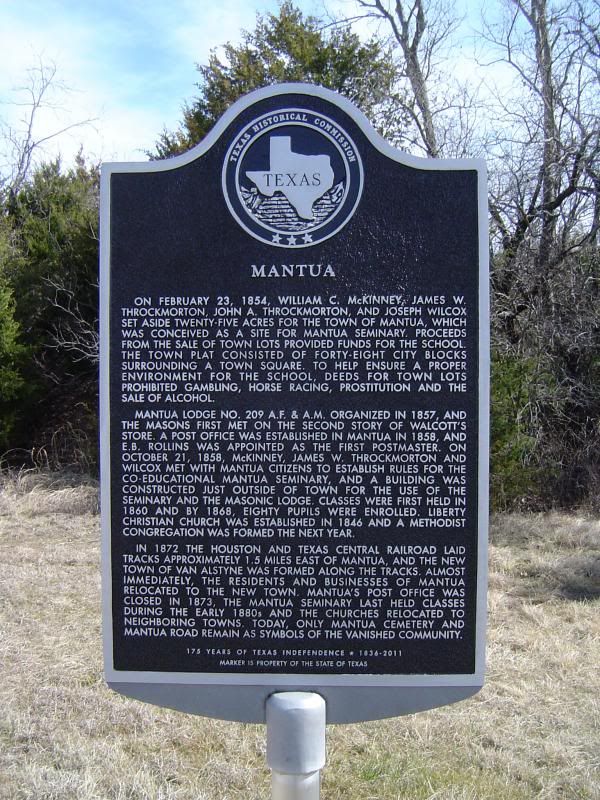 Historical marker at the townsite of Mantua, near the intersection of US 75 and Mantua Road in Collin County
Masonic Lodge No. 209, which sponsored the seminary, organized on February 7, 1857, on the second floor of Horatio N. Walcott's store building in Mantua. The town received its own post office the following year, with E. B. Rollins serving as the first postmaster. In 1859, a new two-story building was constructed at Mantua, with the upper floor used by the lodge for meetings and the lower floor serving as the Mantua Seminary, which educated male and female students alike. In 1860, Mantua boasted a Disciples of Christ church, three stores, and a population of 50 in addition to the seminary and lodge. By 1870, the population of Mantua had increased to 300.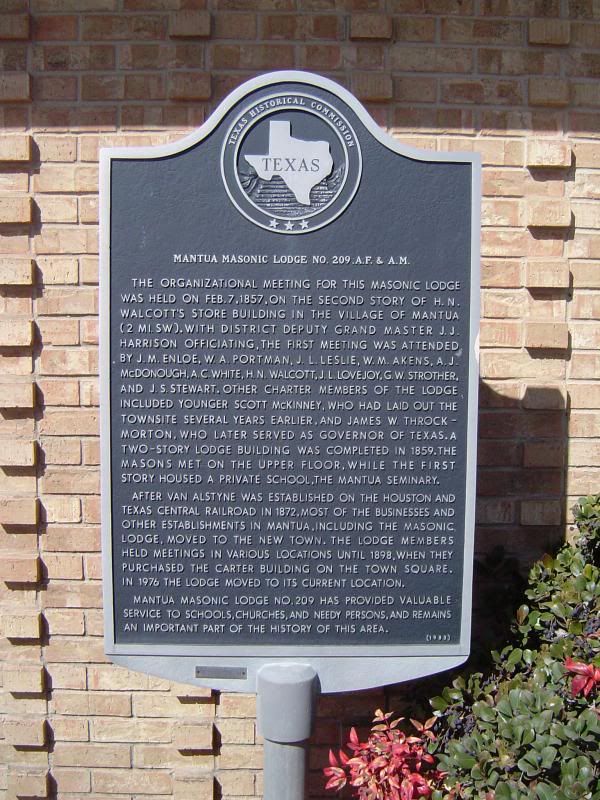 Historical marker for Mantua Masonic Lodge No. 209, vital to the development of Mantua
Just as Mantua's long-term prospects were looking up, though, it suffered a fate shared by many forgotten Texas towns in those days - death by railroad. The Houston and Texas Central Railway purchased land in neighboring Grayson County for $20 an acre from the great-grandson of Collin McKinney in 1872, laying tracks through the region that sat around one and a half miles east of the town. A new depot town called Van Alstyne was established on the railroad line just over the county line in Grayson County. The death of Mantua came quickly, with some residents of Mantua quickly snatching up land at Van Alstyne. By the end of 1873, Mantua had lost its businesses, the post office, the lodge, and most of its population to the new town; the church stayed put until 1888.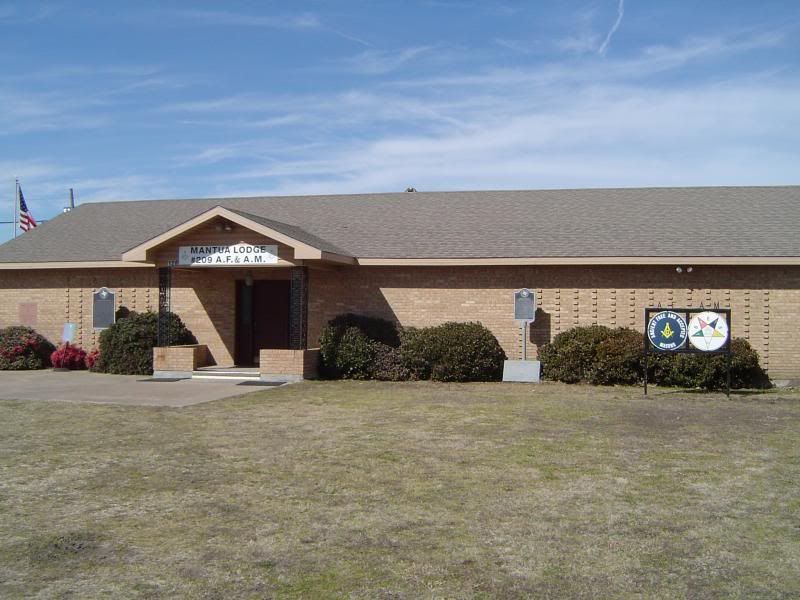 The Mantua Lodge at its current digs in Van Alstyne in Grayson County
County Road 371, which winds along the northern edge of Collin County, is still identified as Mantua Road, as this is the road that the town was developed on. Today, however, there is absolutely no trace of the old town on CR 371, which has been converted into farmland and housing developments. A historical marker erected on the western edge of the old townsite indicates that there is also a Mantua Cemetery that carries the name of the forgotten community, but a descendant of one of the town's residents has informed me that the cemetery, which was always quite small to begin with, now sits on private property and cannot be viewed from the road; I have also been unable to pinpoint the cemetery's location with satellite images. In fact, the only tangible evidence of what
might
have been part of Mantua was found after marching through various trees and thorns to discover what looks like a small collapsed structure on the banks of a winding creek.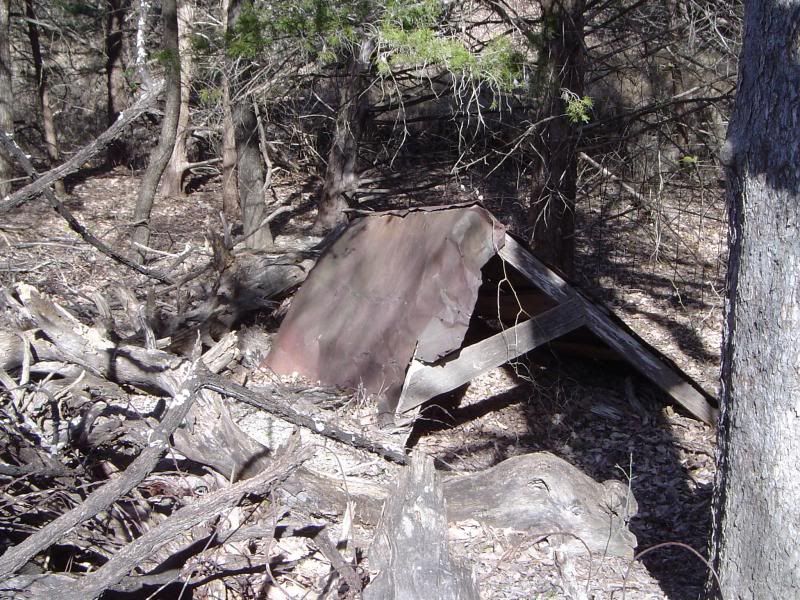 The final, forlorn remnants of Mantua?
If anyone has information on what this building once was, please share - it will certainly be appreciated. But it is somewhat poignant that this growing seminary town has become such a complete ghost that only a historical marker and a county road bear testimony to its former existence over 125 years later. In another 125 years, will even historians and descendants of the townfolk remember the little town of Mantua?