I haven't been on a ghost town expedition for quite some time due to financial and personal constraints, and I miss being out on the road, exploring abandoned towns throughout Texas and bringing you pictures of what's left of these forgotten communities. Still, it turns out I still have a bunch of photos I haven't shared with you yet, and one set of photos is of the Cooke County town of Dexter, reduced to a mere shell of its former self. I don't know why, but I've been sitting on these photos for over two years - guess it's time I shared the history of Dexter with you, right?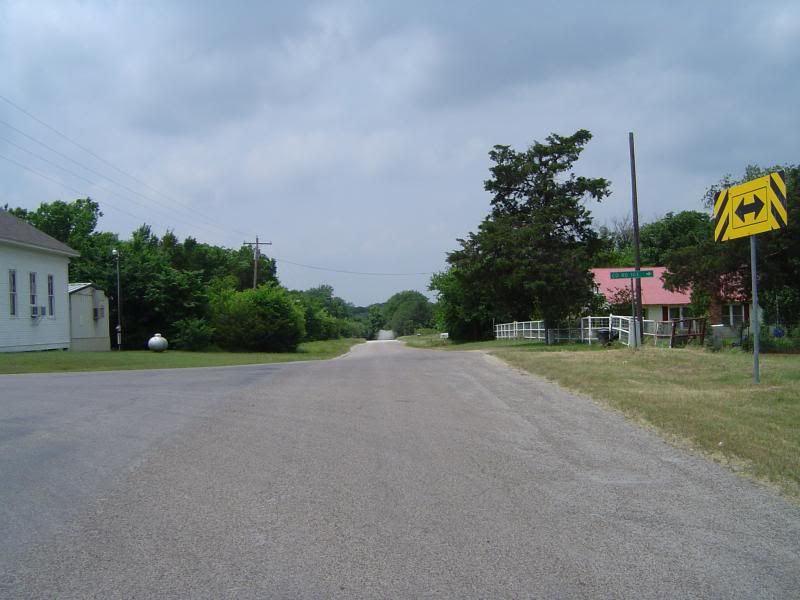 County Road 106, winding through what used to be the heart of Dexter
Take a good look at the above image of Dexter's now-quiet main street. Over a hundred years ago, what Gainesville is today, Dexter once aspired to be - the most important stop on the road north before crossing the Red River into Oklahoma. The
Captured by Jess
blog
features a picture of Dexter in its heyday,
and I strongly encourage you to visit Jessica's blog for that photo as well as other great shots of what's left of this once-ambitious town. If you wish to visit Dexter yourself, it's approximately 10 miles north of Callisburg on County Road 678 in extreme northeastern Cooke County; when you reach the intersection with County Road 106 and see the church on your left, you have arrived.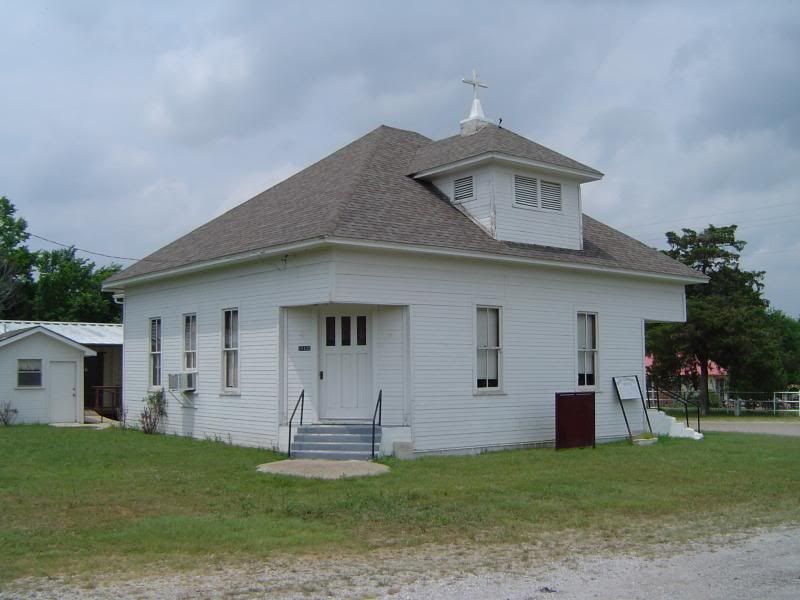 Dexter Community Church, still in use today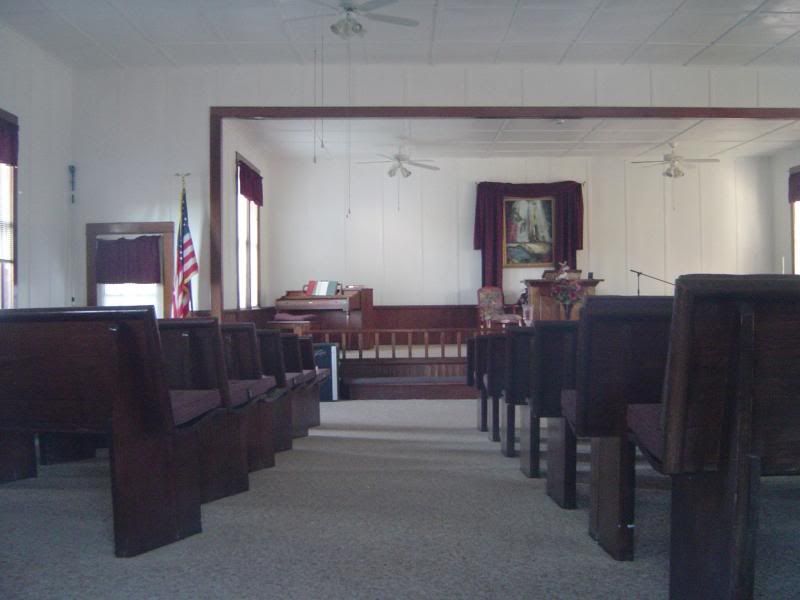 A peek inside Dexter Community Church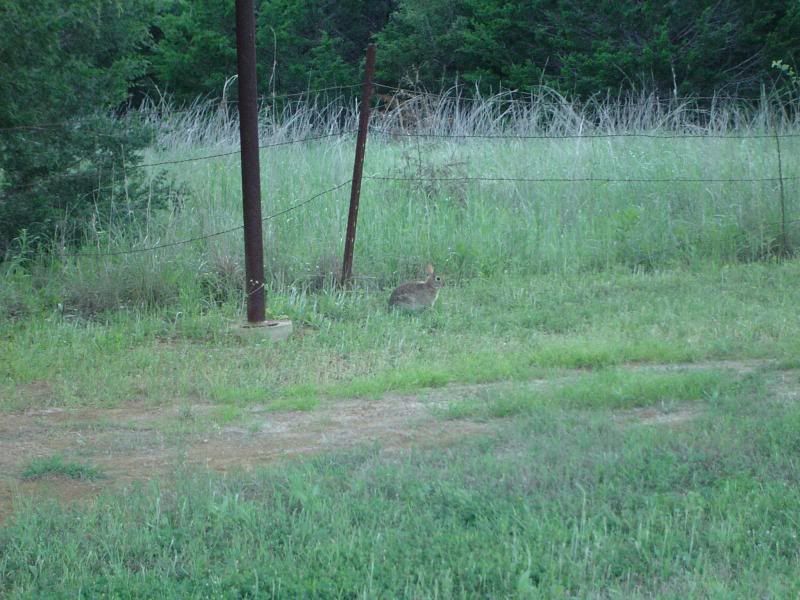 Look closely to see my little furry friend romping the church grounds at Dexter
Dexter's life as a bustling border town was short, but marked by aggressive growth. Founded around 1870 by Dick Collum, S.E. Collum, Jesse Morris, and Bill Munday, it was originally located about three miles east of its present location, next to a natural spring that was certain to draw travellers. The site was originally called Sugar Hill, but Jesse Morris is credited with renaming the town Dexter after
a once-famous racehorse.
Jason Schall inaugurated Dexter's post office on March 31, 1873, and the town quickly blossomed afterwards, reaching a population of 300 in the early 1880s. By that time, Dexter was home to 37 businesses, including its own district school, four blacksmith shops, four physicians, three hotels, two steam gristmills and cotton gins, a bank, a barber shop, and at least one church. The rapid growth of Dexter did not go unnoticed by Gainesville, which had become a supply point for cowboys headed north to Kansas with herds of cattle in tow.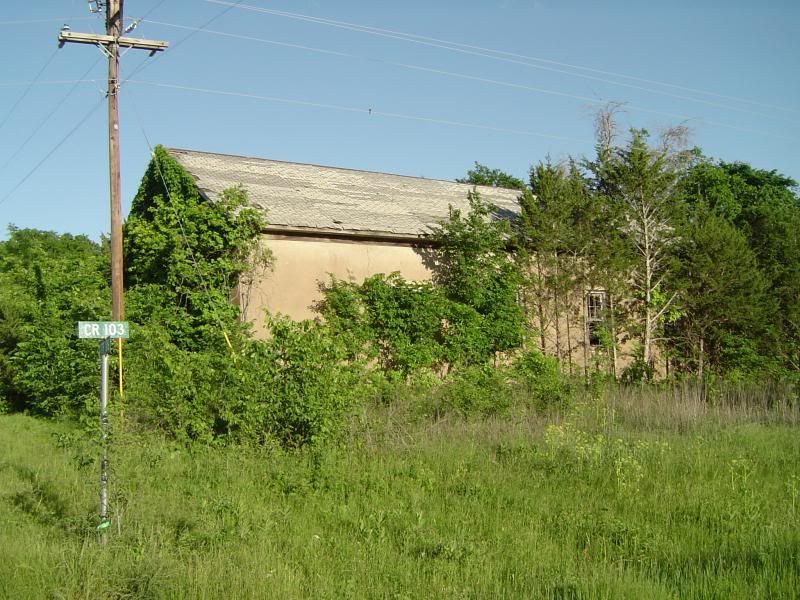 Side view of Dexter's school auditorium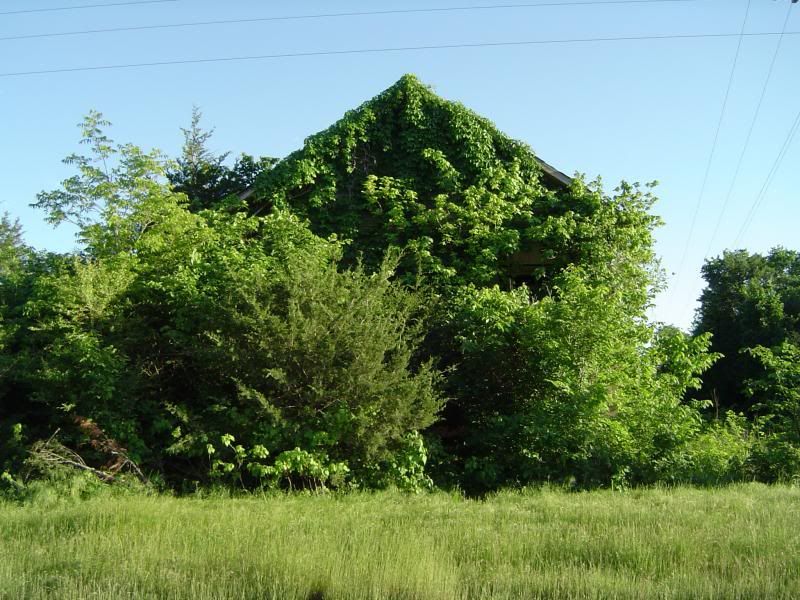 Front view of Dexter's school auditorium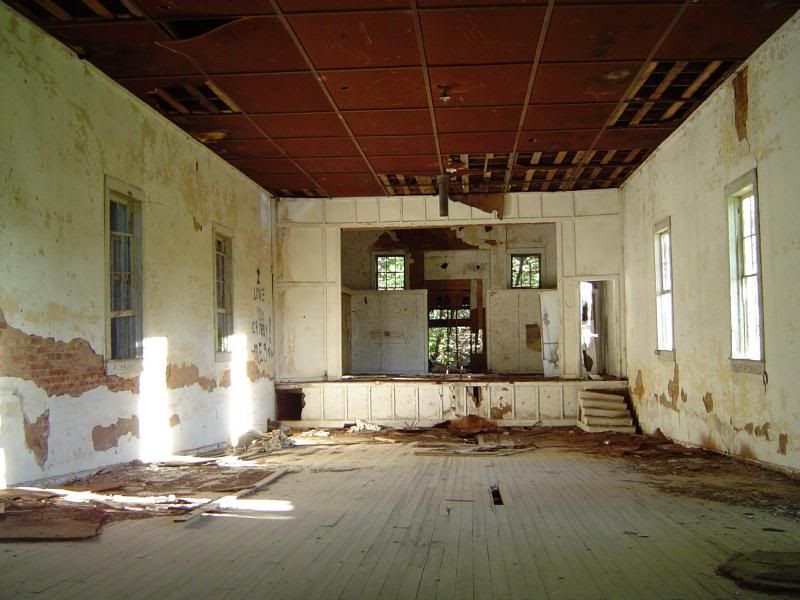 A peek inside Dexter's school auditorium
Every town in Cooke County anticipated the coming of the railroad, hoping to be the first town in the county to welcome trains to its own depot. The townfolk of Dexter were apparently convinced that the Denison and Pacific Railway was going to lay tracks right through their town, but as luck would have it, the railway instead chose to build through the town of Woodbine, 20 miles south of Dexter. Stung but undaunted by the financial loss, Dexter held a vote on February 28, 1885 on incorporation; turnout was somewhat light, but the town incorporated on a 30-18 vote. It was nevertheless becoming obvious to Dexter's denizens that the town was declining, with many of its businesses moving north of the Red River to resettle in Ardmore, Oklahoma. Dexter was also beginning to attract a more unsavory lot who occasionally used the town as a hideout; a posse tracked down brothers James and Pink Lee of the Lee Gang to a hayfield near Dexter on September 7, 1885, where both brothers were killed in a gunfight.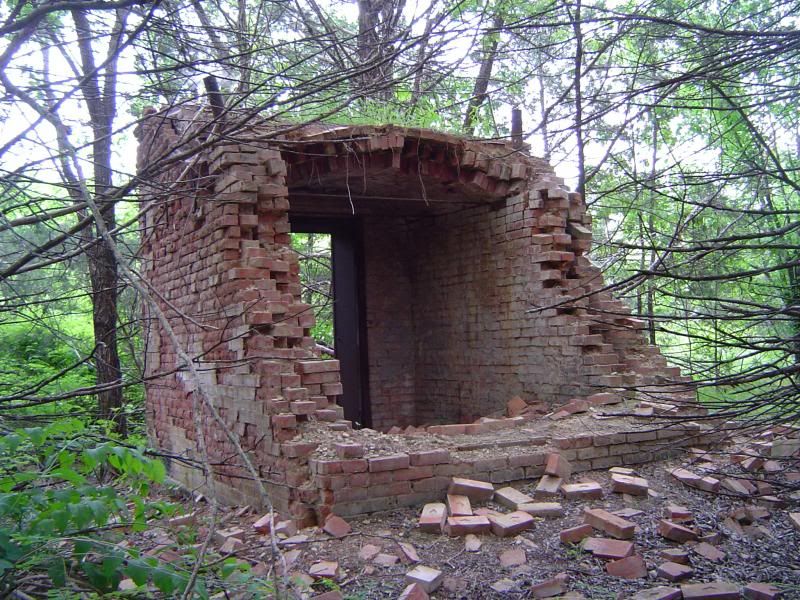 Rear view of the abandoned bank vault at Dexter, now hidden from the road by dense foliage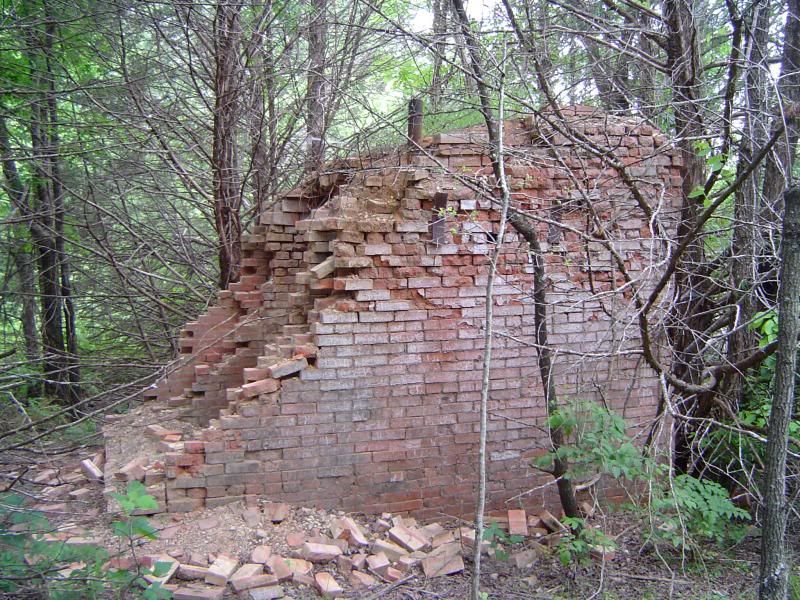 Side view of the Dexter bank vault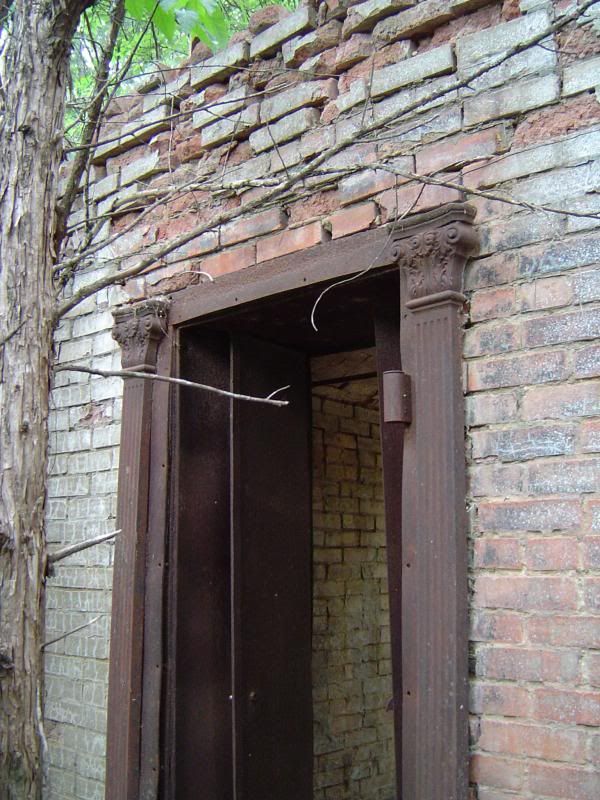 Detail of ironwork molding around front door to the Dexter bank vault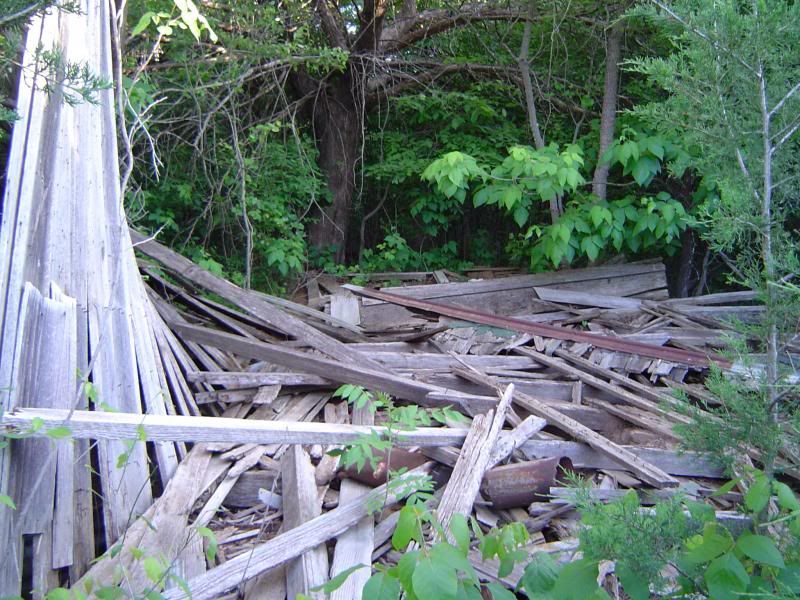 Remains of a wooden shack that reportedly housed the barber shop; said to have finally collapsed around 2000
The city government of Dexter managed to hold out until around 1900, and the post office was apparently discontinued sometime after 1925. The population continued to decline until 70 people were left at the townsite from the late 1960s until 1987, when the population began to plummet even further. The 2000 census reported only 18 people left at what used to be Cooke County's most ambitious town.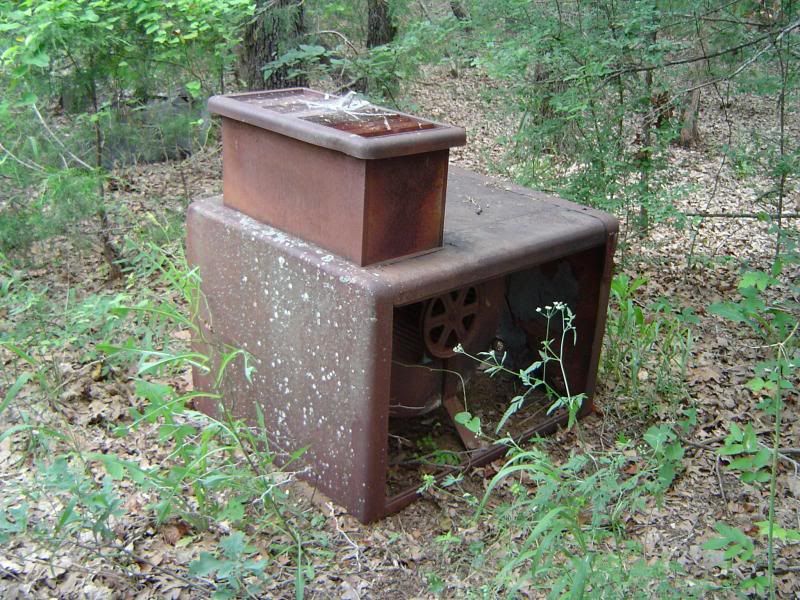 Rusting machinery reposing in the vicinity of what used to be Dexter's general store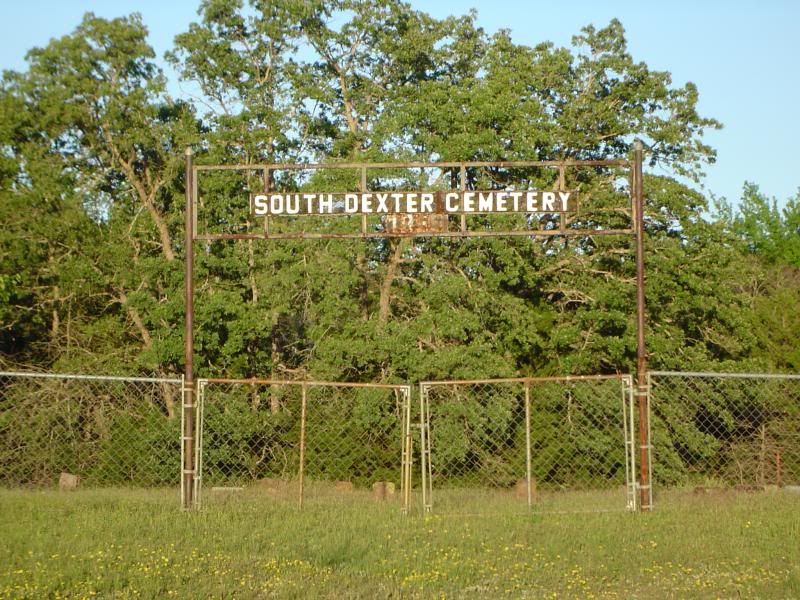 Gate to South Dexter Cemetery - unlike many Texas ghost towns, Dexter has two cemeteries instead of just one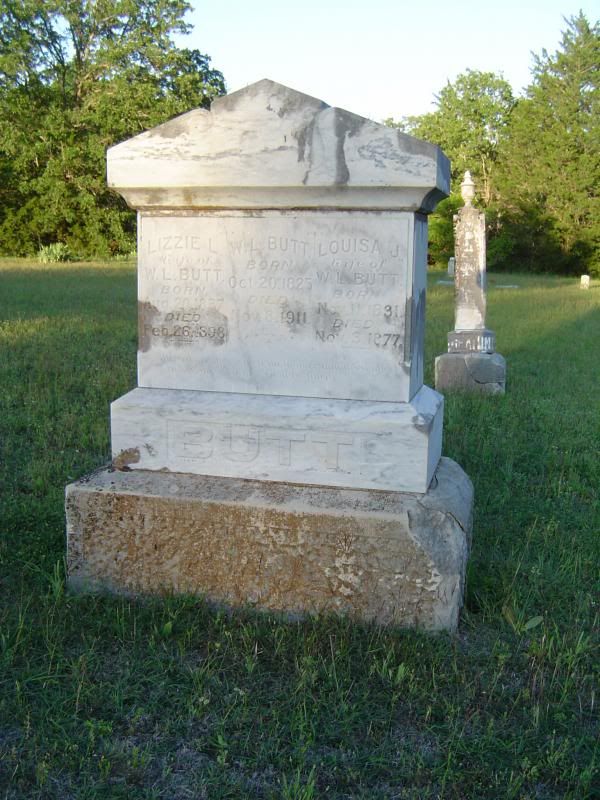 Tombstone for W.L. Butt and his two wives, located in South Dexter Cemetery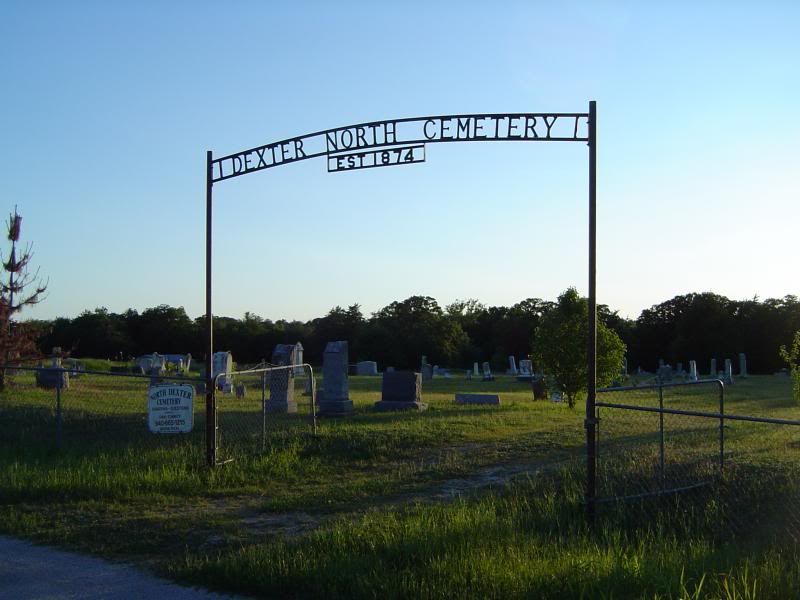 Gate to Dexter North Cemetery - or North Dexter Cemetery, depending on whether you believe the gate or the nearby sign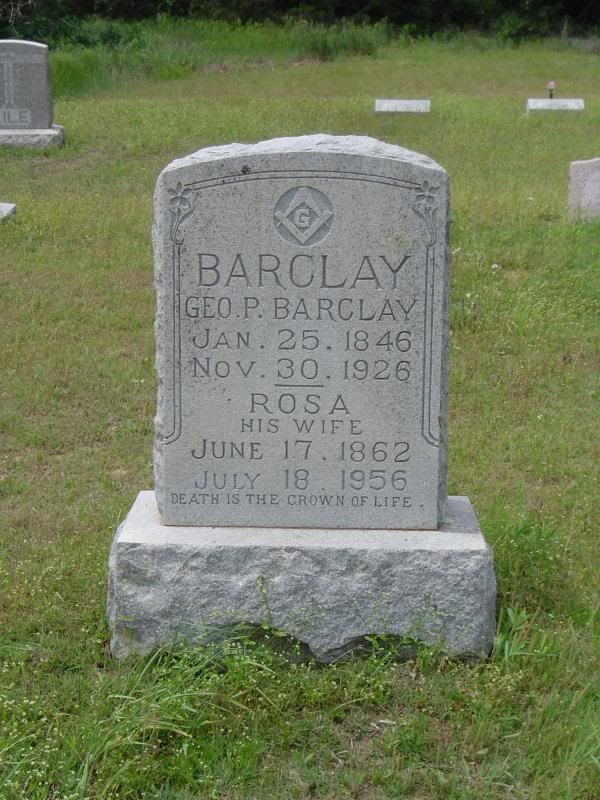 Masonic gravestone for George P. Barclay and wife Rosa, located in Dexter North Cemetery
I hope you enjoyed this pictorial essay of Dexter. If you choose to visit this ghost town yourself, most of the roads are paved, but be advised that some of the roads are gravel and dirt that are prone to bumps and ditches and may be impassable after recent rainfall. Be safe, stay hydrated, and enjoy - and thank you for learning about the history of Dexter!
One more thing: Happy Birthday to my brother Steve! Love you, bro!