If you're heading down Interstate 35 in the vicinity of Jarrell, see if you can cast your gaze eastward on the southern edge of town - you just might see a few remnants of a fading town known as Corn Hill.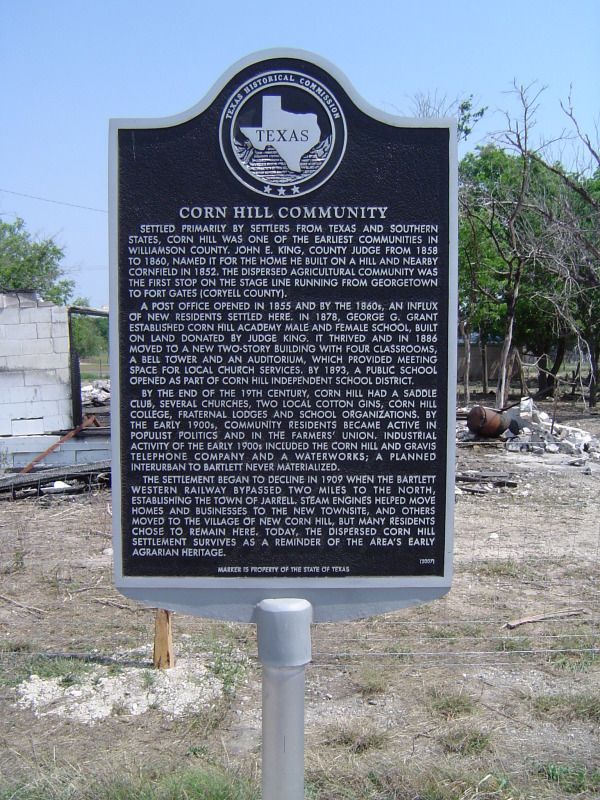 Historical marker for Corn Hill
As far as Texas ghost towns go, Corn Hill (also spelled Cornhill) enjoyed a relatively tranquil life, free of the lawlessness of Helena or the industrialism of Thurber. In its latter days, Corn Hill also served as the birthplace of Texas Governor Preston Smith (1912-2003). The site was originally settled in 1852 by John E. King, who would later serve as County Judge for Williamson County from 1858 until 1860. King built a house and planted a cornfield on top of a small hill, which is how Corn Hill got its name. By 1855, the small farming community that sprung up around King's hilltop farm served as the first stop on a stagecoach line connecting Georgetown to Fort Gates in Coryell County, and Corn Hill had established its own post office that same year.
A collapsed concrete building at Corn Hill
The town's growth was fairly slow until Corn Hill opened its first store in 1869 and its first cotton gin in 1871, capable of producing three bales of cotton per day. By 1884, Corn Hill boasted a multicultural population of 250 that included Czechs, Slovaks, Moravians, Germans, and Austrians as well as other settlers from Arkansas and Tennessee. At that time, Corn Hill also featured two mills, two (some say three) cotton gins, four churches, a Masonic lodge, a blacksmith's shop, a school (on land donated by Judge King), and the
Express
, Corn Hill's weekly newspaper. In 1886, the school outgrew its original building and moved into a new two-story facility with four rooms, an auditorium, and a bell tower; the new schoolhouse also provided meeting space for churches. The population grew to 350 by 1896, and by this time Corn Hill also featured a hotel that was actually a converted two-story house built by John Wesley Shaver, although Mr. and Mrs. John D. Black actually operated the hotel beginning in 1889.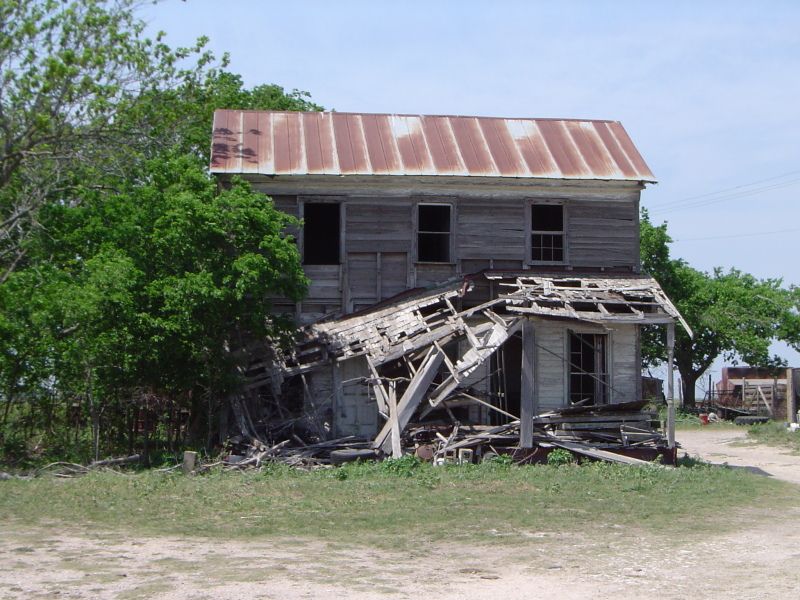 Remains of the Shaver Hotel, now on private property
Corn Hill's zenith appears to have been in 1909, when the town's population grew to an estimated 500. Many farmers in the town were taking an increased interest in the pro-agrarian People's Party, of whom William Jennings Bryan (prosecutor for the Scopes Trial of 1925) was one of its brightest luminaries. Corn Hill was also developing its own waterworks and telephone company by this time, and the Corn Hill College graduated a class of 36 students in 1909.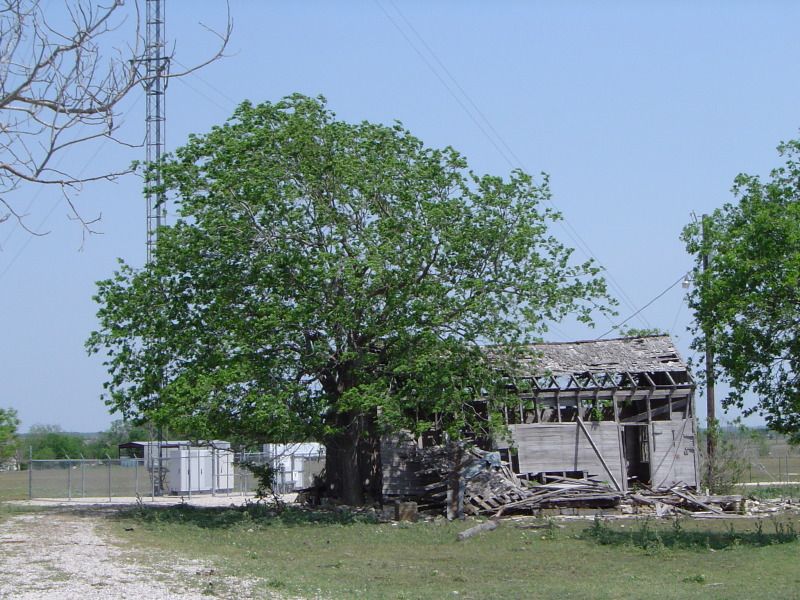 Deteriorating house at Corn Hill, now the site of a Verizon communications tower
The only problem was that Corn Hill failed to secure a railroad through its vicinity. In 1909, the Bartlett and Western Railway bypassed Corn Hill, and a new town called Jarrell was established on the line by developers from the towns of Temple and Bartlett. Over the next decade, many of the residents of Corn Hill migrated over to the new townsite. When Jarrell established its own post office in 1912, it was simply because Corn Hill's post office had been moved to Jarrell. A steam engine was used to move many of the other buildings from Corn Hill to Jarrell during this period, and the Corn Hill College graduated its last crop of students in 1915.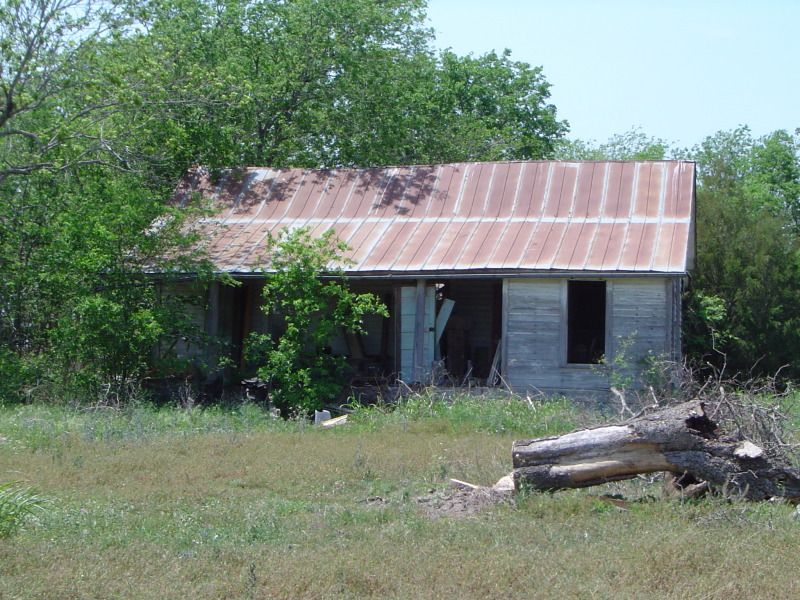 A once-lovely abandoned house in Corn Hill on County Road 312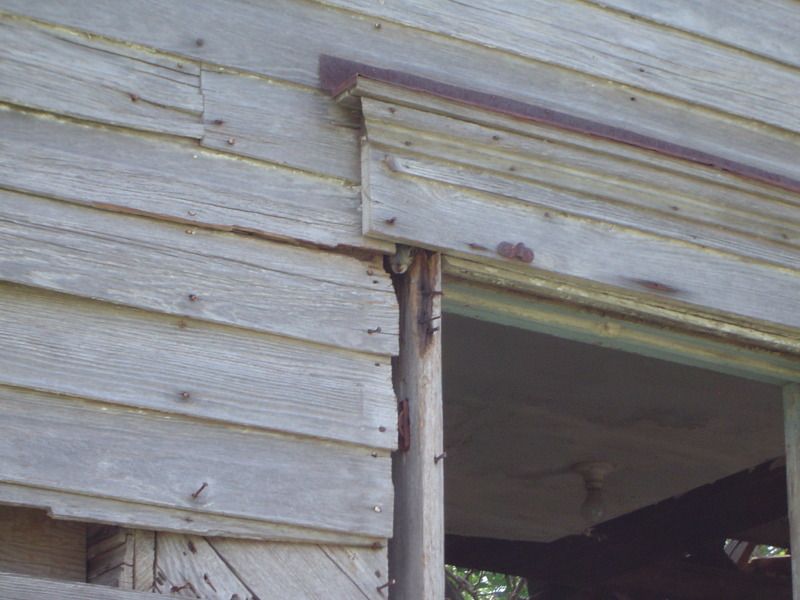 Say hello to my little friend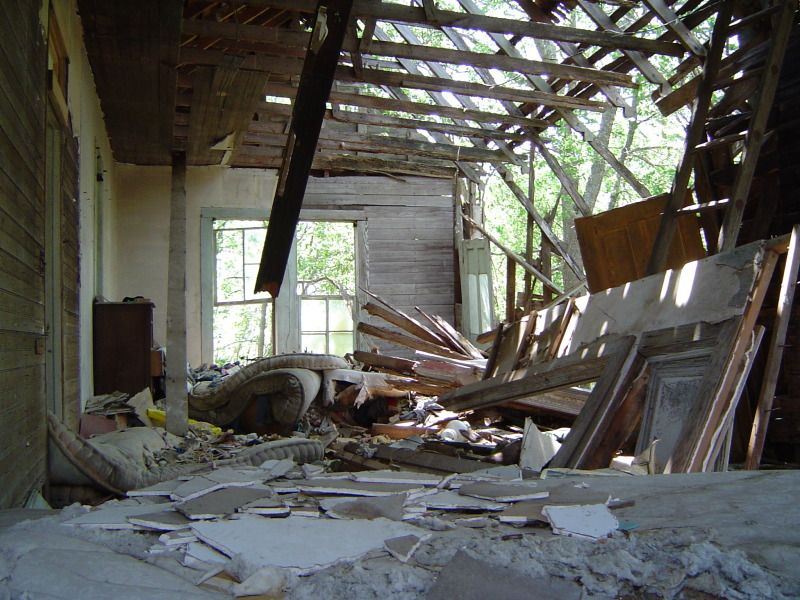 Collapsing interior of the County Road 312 house
Unfortunately for the town of Jarrell, it did not fare much better than the small farming town it had just depopulated. The cotton industry declined, the Great Depression struck, and the Bartlett and Western Railway went out of business. By 1933, Jarrell had been reduced to a population of 200. A handful of determined holdouts remained at what little remained of Corn Hill, but most of the original population had already moved to Jarrell or Georgetown, while some other townfolk moved eastward in an attempt to preserve their community. New Corn Hill was established sometime around 1913 on FM 1105, approximately two miles east of "Old" Corn Hill. New Corn Hill today appears to have dispersed into a possible ghost town itself, although it still features a Moravian Hall and the beautiful and historic Holy Trinity Catholic Church. One of these days, I need to arrange another trip down to Williamson County to photograph New Corn Hill for you.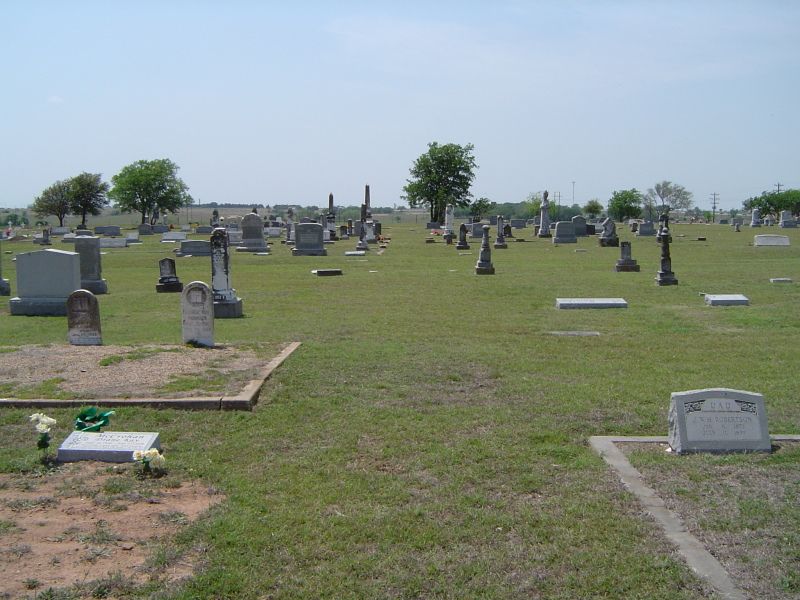 Cornhill Cemetery, just outside Jarrell city limits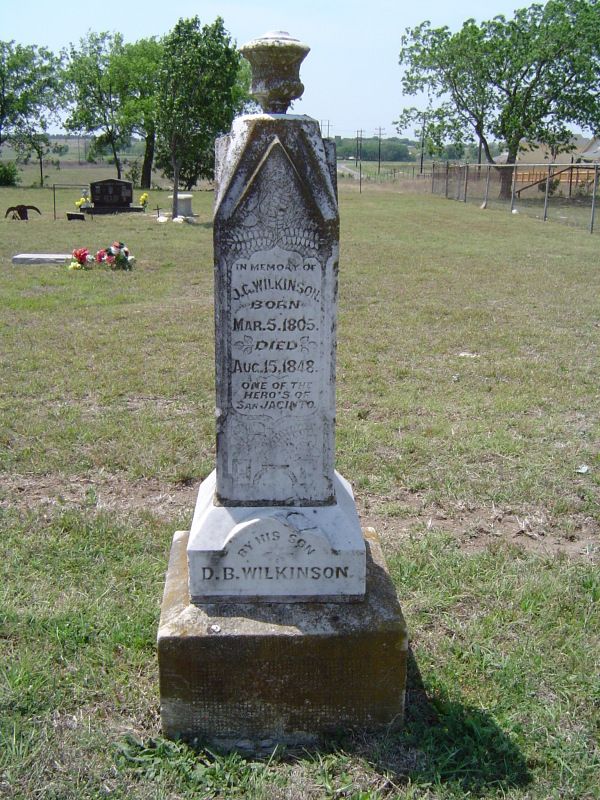 Resting place for the gravestone of James G. Wilkinson, one of the heroes of the Battle of San Jacinto - but his body is actually buried in Austin
Today, the town of Jarrell has rebounded from its early brush with disaster, not to mention a devastating 1997 tornado that killed 27 people in Jarrell and destroyed numerous homes and structures. According to the 2010 Census, Jarrell currently boasts a population of 984, and its boundaries are starting to swallow much of what remains of Corn Hill. The Shaver Hotel is the only remaining historic structure at the former townsite, although there are also a few other abandoned and dilapidated houses as well as a few that are still occupied. The town cemetery, however, lies just outside of Jarrell city limits and a mile east of the old townsite, and it serves as the final resting place for many of those who worked and toiled to preserve their town and their way of life.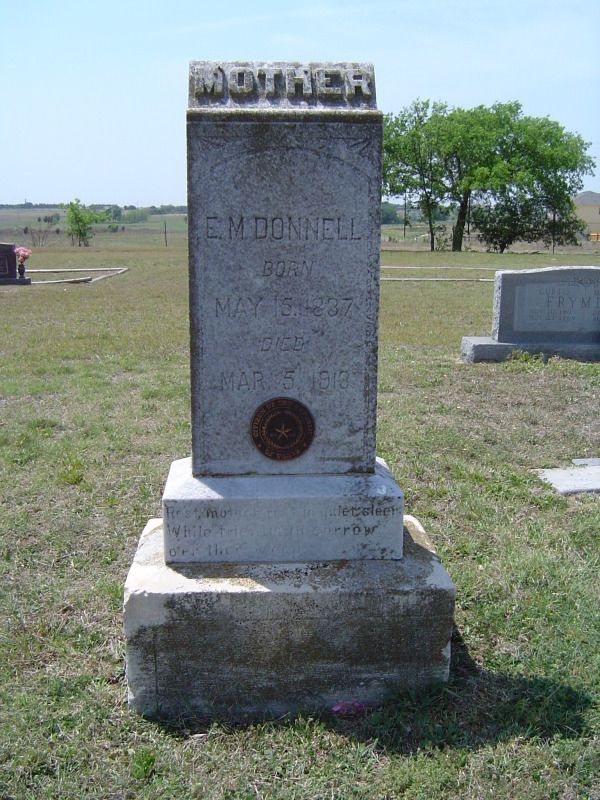 Tombstone for E.M. Donnell, Citizen of the Republic of Texas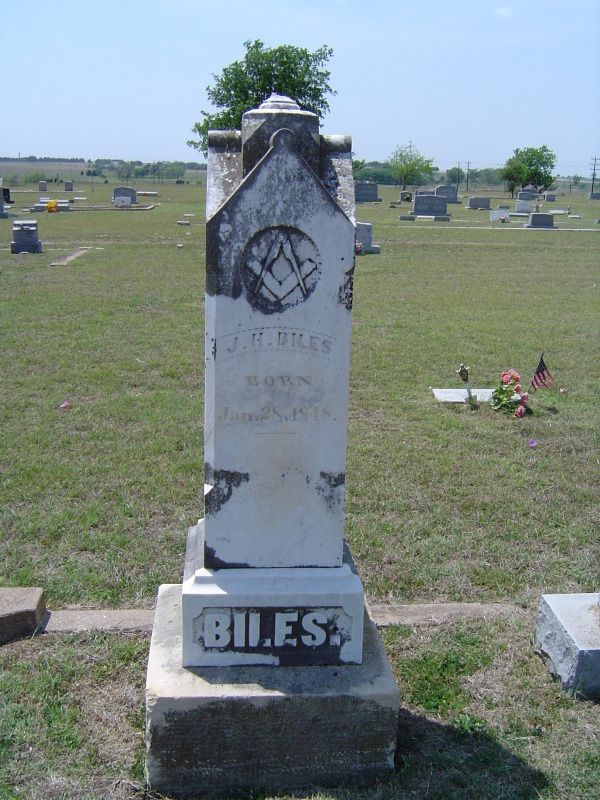 The grave marker of J.H. Biles records his birth date, his death date, and the date he became a Mason
For those who are interested, the Williamson County Historical Commission
has published some old photos of Corn Hill online
as well as a more detailed history of the community. I highly recommend it for the amount of detail that is presented on the life and death of this humble yet progressive Williamson County town.