The ghost town of Marysville, TX is not for the inexperienced or the faint of heart.
For starters, Marysville is one of the most isolated ghost towns in North Texas. Not a single paved road leads into or out of this Cooke County town - it's all gravel roads no matter how you approach the town. The most direct route to Marysville is to take Farm to Market Road 2739 north from US 82 (just east of Muenster) and follow it up for about 3.7 miles until you run out of pavement. At this point, FM 2739 turns into County Road 417, which winds and twists for around five rickety miles north through fields and over dry creeks (
not
recommended at night) until you finally reach the townsite. Don't look for any road signs; instead, look for a little white Baptist church on the east side of CR 417.
There are only 15 people (at most) living in Marysville, and it takes a special breed of Texan to live here. The nearest building that resembles a store is a 30-minute drive away, so you learn to live off the land, make do with what you have, and plan your drives into town for supplies carefully. If you're the type that is used to hopping in the car and driving to the nearest 7-Eleven because you're in the mood for a Slurpee, Marysville is definitely not for you. The locals are friendly enough, but also wary of outsiders, and one of them apparently doesn't see any harm in letting a pack of barking dogs surround any unannounced visitors whether on foot or in their vehicles. Even if you don't encounter either people or dogs during your sojourn in Marysville, it may not be that uncommon to hear in the distance the shouts of hunters, the baying of hounds, and the roar of shotguns. Consider this a friendly advisory.
So, folks - guess where I was one cool September evening? Here's some photos from the trip to Marysville in Cooke County:
An abandoned store in Marysville off of CR 417; the front porch collapsed within the last decade
Another abandoned store, boarded up and buried a little deeper in the woods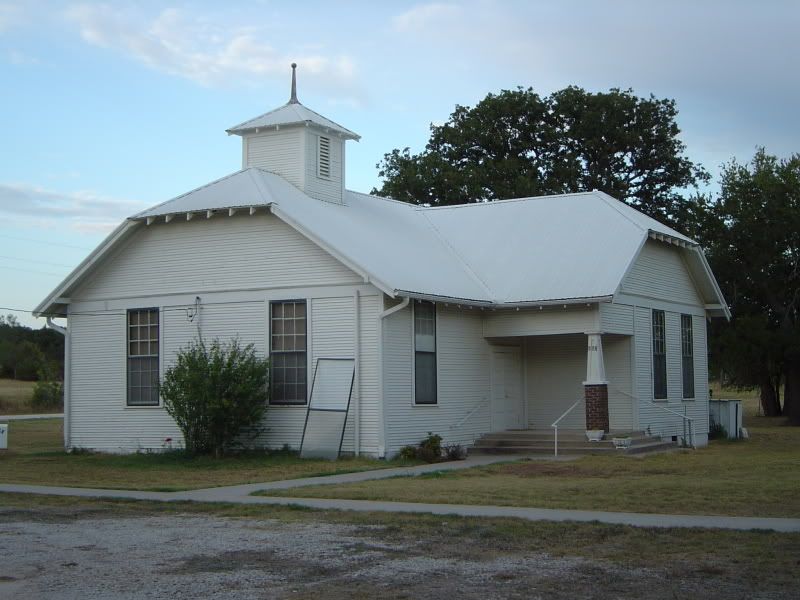 Marysville Baptist Church, where worship services have been held since 1872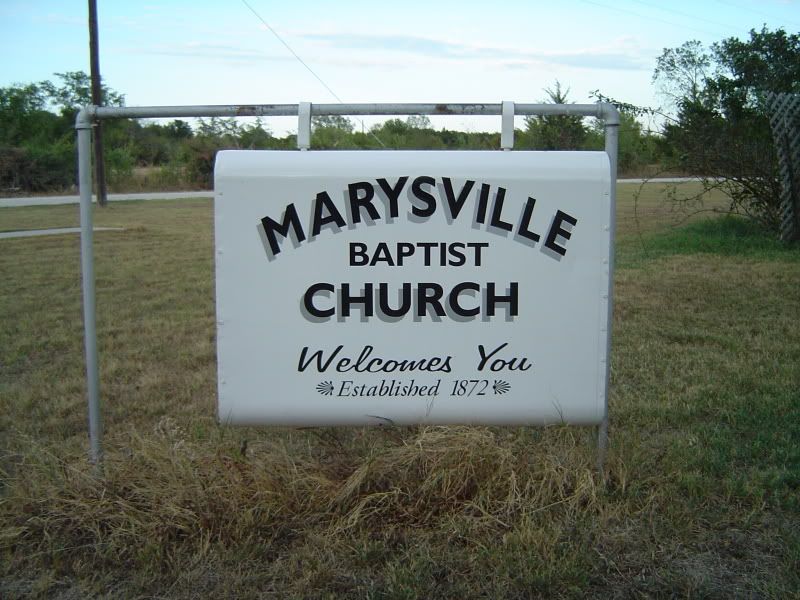 Detail of the Marysville Baptist Church sign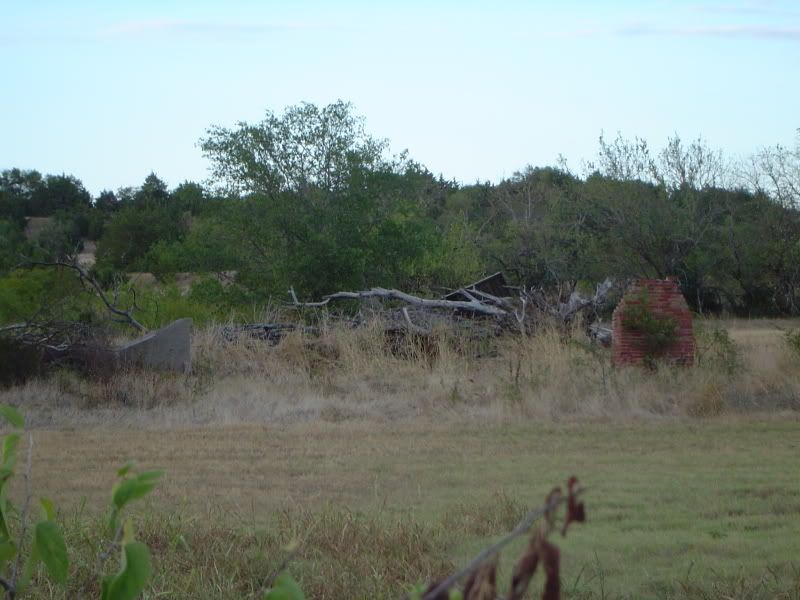 Ruins of an old Marysville house
A disused building that served as a church (and possibly as a Masonic lodge)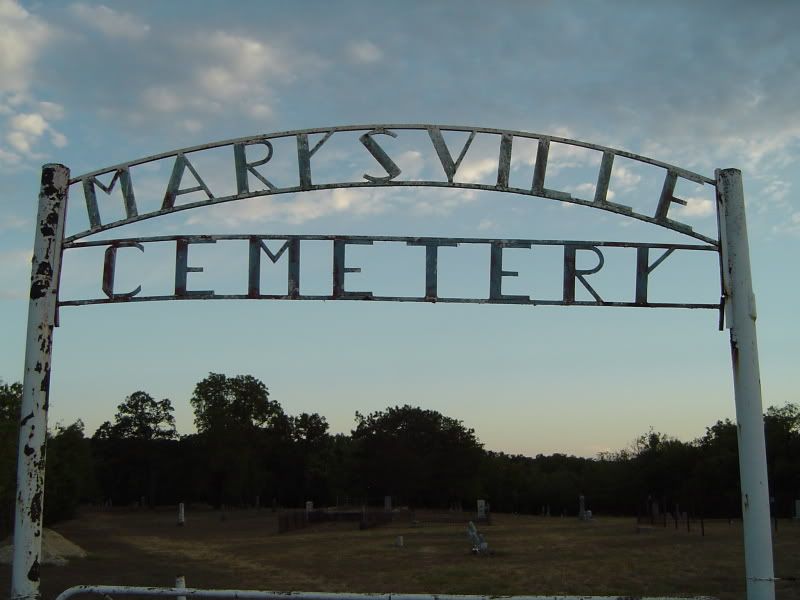 Front gate to Marysville Cemetery, the larger of two cemeteries at the townsite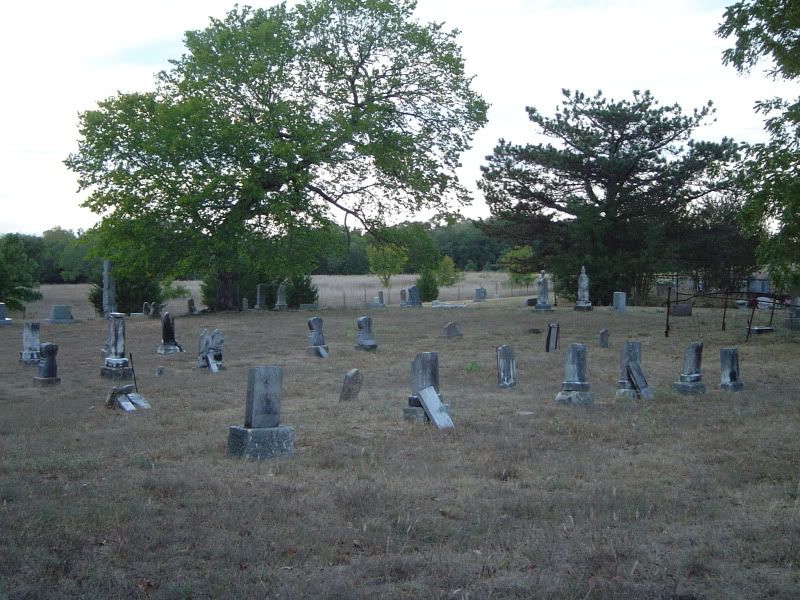 A sample of the numerous gravesites in Marysville Cemetery, some of them over 150 years old
Tombstone of Marysville's most famous resident - Daniel Montague; surveyor, Texas state senator, and namesake of neighboring Montague County
By 1900, according to the
Texas State Historical Association
, Marysville had 250 residents, a drugstore, a livery stable, a district school, a post office, two churches, two grocery stores, two blacksmith shops, and two mercantile stores. The town served the needs of small farms in central Cooke County, and even after the Great Depression hit, Marysville continued on with a somewhat smaller population until December 1941, when Japanese warplanes attacked Pearl Harbor and America found itself in the middle of World War II.
A week or two after Pearl Harbor, the War Department swooped into Cooke County and purchased some 59,000 acres north, east, and south of Marysville from the local farmers, turning the tract of land into Camp Howze, which served as an infantry training site and POW camp for captured German soldiers. Marysville was relatively isolated from the rest of Cooke County by Camp Howze, but the $20 million that Washington, DC pumped into the camp helped fuel the local economy until the end of the war. In 1946, Camp Howze was declared surplus and completely dismantled, the land once again available for the original farmers to come back - but they never did.
Without either the farms or a military camp to keep Marysville afloat, the town withered. First to go was the post office. By 1980, all of the businesses in Maryville were defunct, with only Marysville Baptist Church surviving. Even then, however, there were some 70 people living at the townsite, but the number plummeted drastically over the next 20 years. The handful that stayed put at Marysville are making do the best they know how, with their scattered homesteads, their gravel roads, and the pervading stillness that is occasionally broken by the baying of hounds and the roar of shotguns.