One of the first Texas ghost towns I ever visited was Thurber, located some 75 miles west of Fort Worth on Interstate 20 in the extreme northwest corner of Erath County. Thurber was once a coal-mining company town, and a rather successful one at that.
Our younger readers may be stumped by the phrase "company town." This means that the town itself was the private property of a company - in this case, the Texas Pacific Coal & Oil Company. If you were a coal miner in Thurber, this meant that the company owned your humble house as well as the land that it sat on. When you got paid, the company didn't pay you in cash; you got handed a wad of company scrip, which could only be spent at the company store, which meant that the company essentially controlled what goods you could purchase. On the flip side, the company store tried to cover all your basic needs from cradle to grave; it sold food, clothing, housewares, baby carriages, and even the coffin in which you could be buried at the company cemetery. (And yes, there is a company cemetery at Thurber to this very day.)
In 1903, Thurber was also the first town in Texas to become a complete "closed shop," which means, for those of you in "right-to-work" states, that if you wanted to mine coal in Thurber, you had to join the union. The town reached a peak population of around 10,000, with Thurber coal and Thurber bricks in great demand throughout Texas and across America.
So what happened to Thurber? Oil happened, that's what. A growing number of locomotives started using oil instead of coal as fuel. Eventually, the Texas Pacific Coal and Oil Company shut down all mining operations at Thurber, putting thousands of hard-working coal miners out of a job by the end of 1921. The brick industry carried on for a little while longer, but the town quickly declined, and by the time America entered World War II, Thurber was a ghost town.
Fortunately, remnants of Thurber were preserved and even restored by some of the diehards who stayed behind, and during two separate expeditions in June and August of 2010, this is a sample of what I found: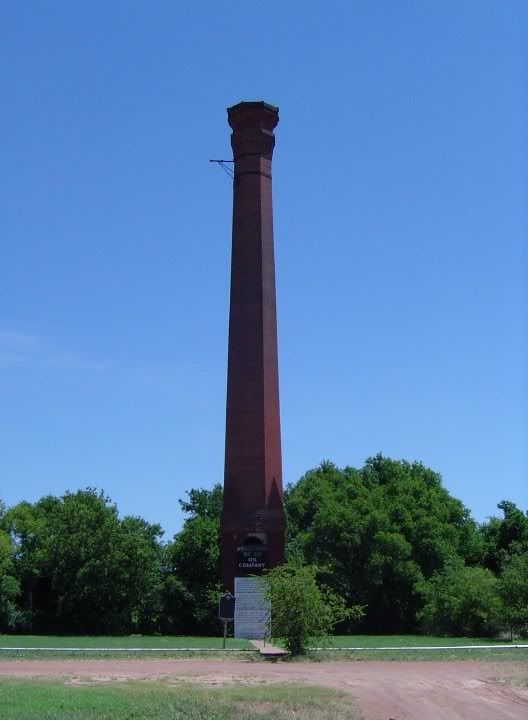 The towering smokestack from the town's former coal-mining industry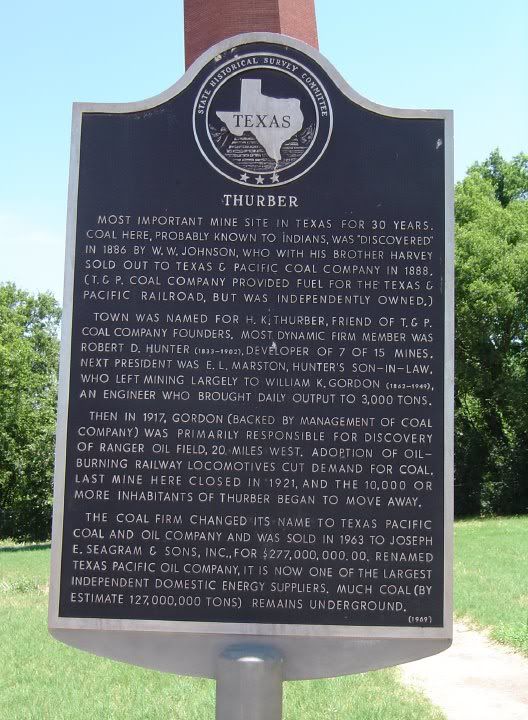 Historical marker in front of the Thurber smokestack
Saint Barbara's Catholic Church, one of the restored buildings
The former company store, now housing one of two restaurants at the townsite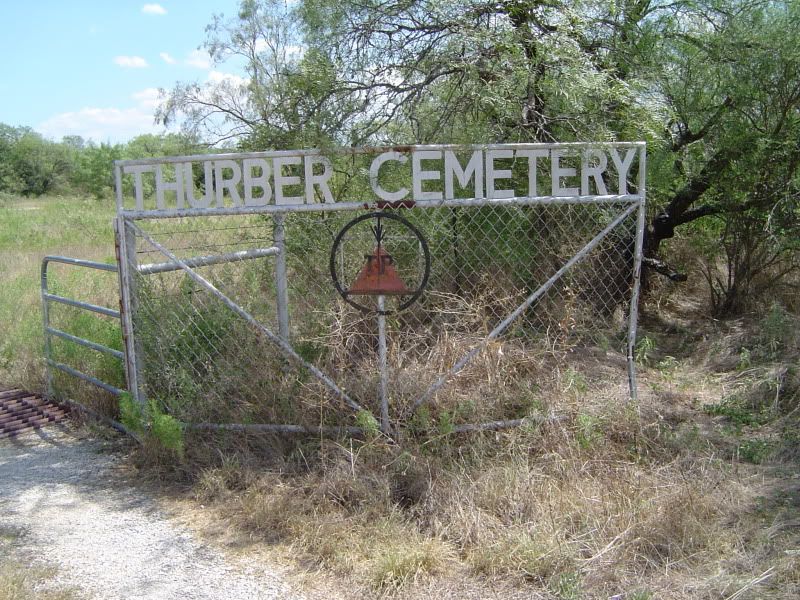 The front gate to Thurber Cemetery, still bearing the Texas Pacific logo
Historical marker and view of New York Hill, which was the neighborhood where Thurber's white-collar workers lived
There is much more to the story of Thurber than I can do justice here, but sitting on the townsite is a wonderful little museum called the
W.K. Gordon Center for Industrial History of Texas
, complete with relics from Thurber, interactive dioramas, and the recollections of some of the miners who worked at Thurber. The Center is definitely worth squeezing into your Thurber itinerary.
I hope you enjoyed these photos of Thurber along with the short essay. More towns (and photos) to come soon!