First, a little extra history about outlaw John Wesley Hardin's infamous Christmas gunfight at Towash from
the folks at The History Channel's website
:
On Christmas Day in 1869, he went to the tiny town of Towash, Texas, seeking some holiday companionship and a good game of cards. Hardin apparently lost his happy holiday spirit when he argued with a man named James Bradley over a card hand. The confrontation escalated, and the men agreed to settle the dispute in a classic street face-off. Though such showdowns--or walkdowns, as they were sometimes called--were far less common than western books and movies suggest, they did occasionally occur, particularly among southern gunmen who continued to embrace the ideal of the gentlemen's duel. Late in the day, the two men faced each other in a deserted Towash street. Bradley shot at Hardin but missed. Hardin killed Bradley with bullets to the head and chest.
As stated earlier on this blog, the site of Towash was permanently inundated by Lake Whitney in 1951, never to surface again for the next 60 years. And now, photos from the lost ghost town of Towash: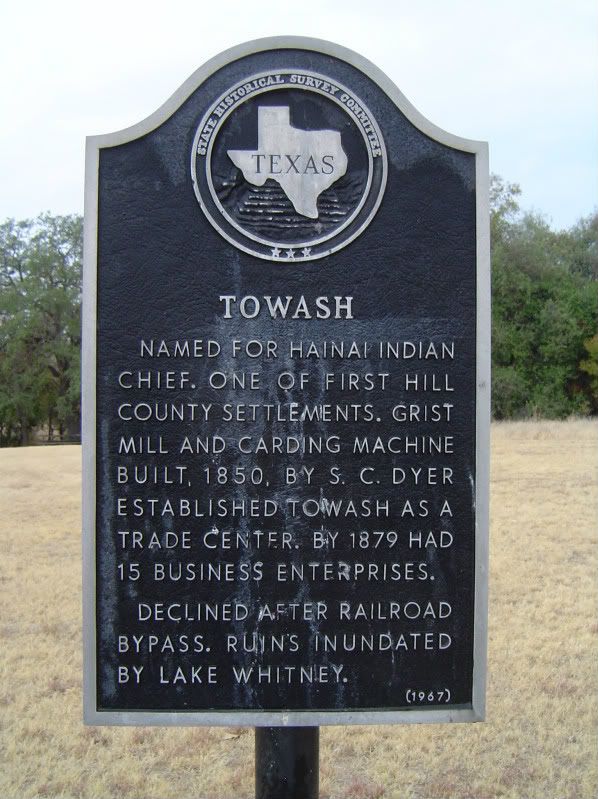 Historical Marker for Towash at Lake Whitney State Park, near what is possibly the largest collection of underwater ruins of the town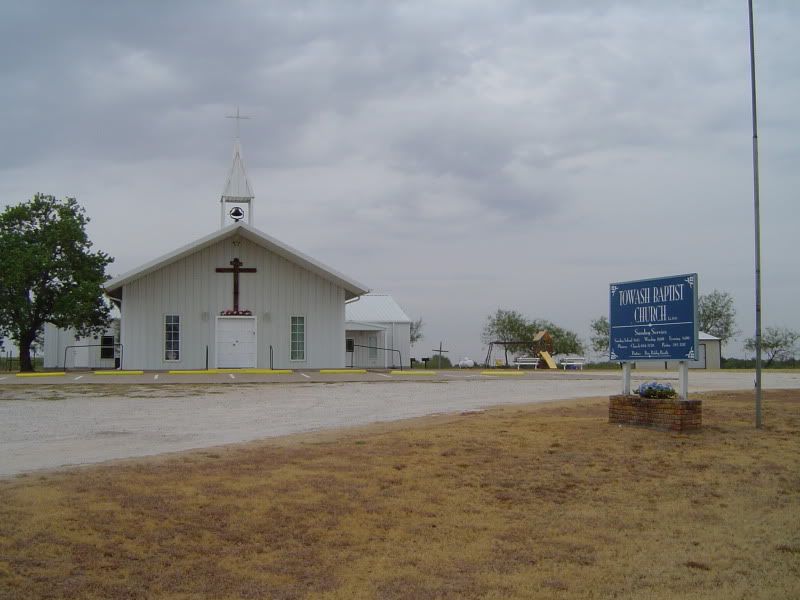 Towash Baptist Church in nearby Whitney, TX, built partially with materials from the old Towash site and still in use
Tombstone of Simpson Cash Dyer, one of the town fathers of Towash, responsible for the town's gristmill and wool-carding machine; stone and grave relocated to Whitney, TX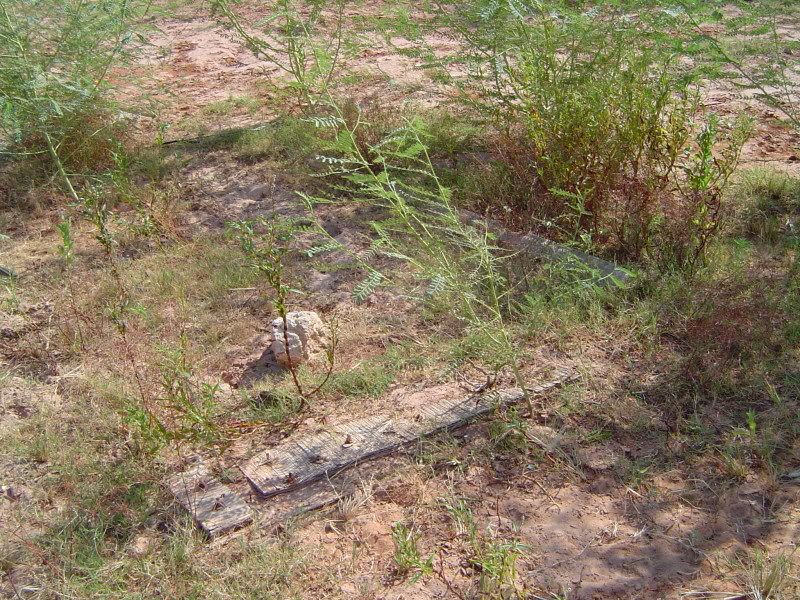 Wooden foundations of a small house or shack in Towash, recently emerging from Lake Whitney as a result of the 2011 drought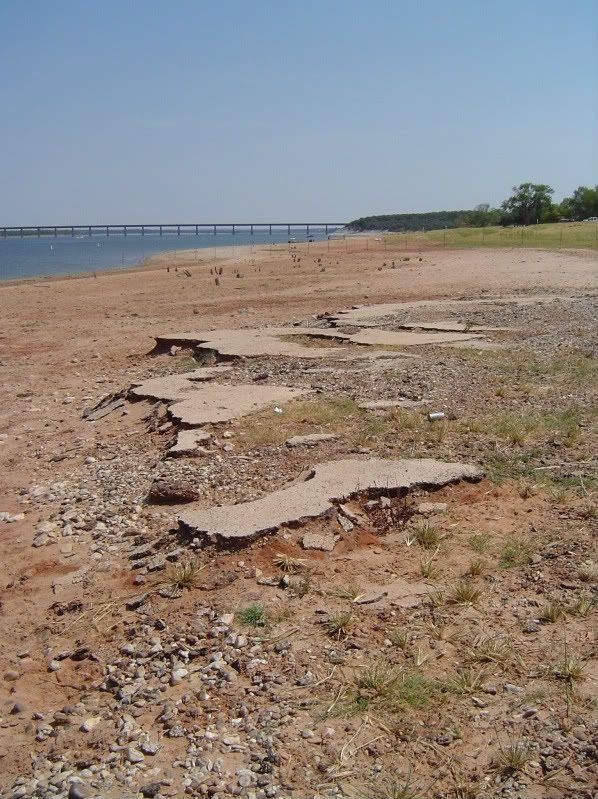 Remains of a long-submerged road through Towash, uncovered by the 2011 drought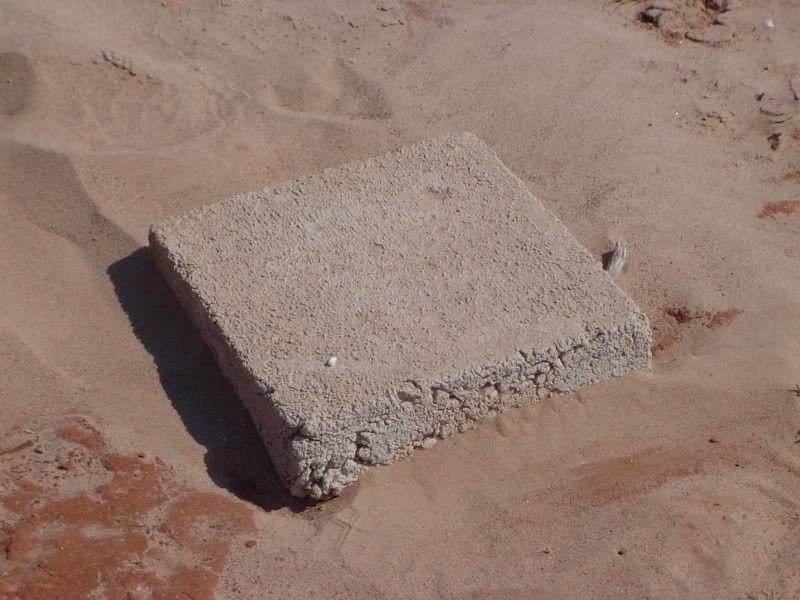 Enigmatic stone block sunk into the sandy soil at Towash, uncovered by the 2011 drought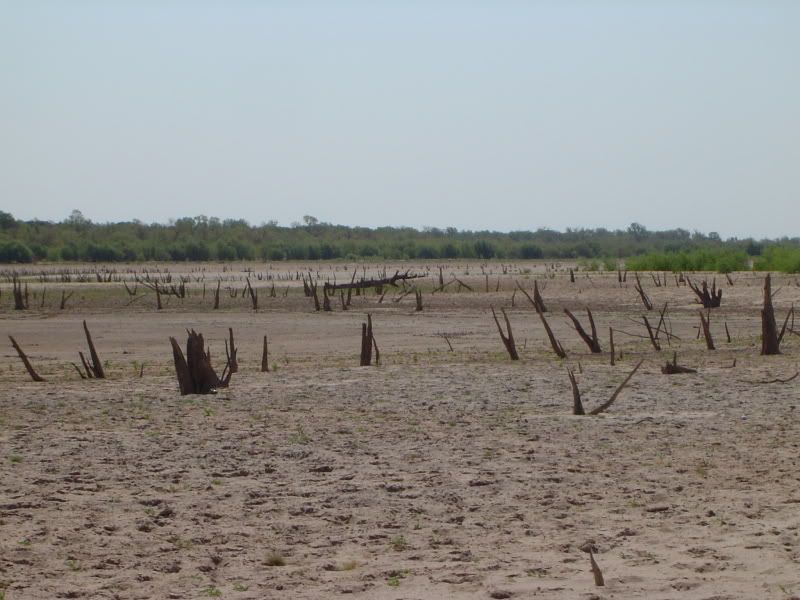 An utterly alien landscape of stumps of dead trees at the Towash site, uncovered by the 2011 drought
Will these be the only secrets of Towash that Lake Whitney yields? Possibly, but the current elevation of Lake Whitney as of 6:15pm Sunday evening (local time) is only 317.44 feet above sea level - it's supposed to be about 16 feet higher than that. As it is, however, the folks living at the lake are having to battle some fierce wildfires, and I'm in no mood to brave either the flames or more quicksand, so unless water levels drop even further, this may be all I can discover. But I could be wrong.
In the meantime, I hope you enjoyed these photos as much as I had rediscovering at least a few small pieces of the underwater ghost town of Towash!