In Dallas County, the big'uns ate the small'uns - it was the logical progression of municipal growth. The towns of Embree and Duck Creek joined forces in 1891 and transformed into the single city of Garland, which still endures today as, among other things, the birthplace of yours truly. Most towns, however, wound up being devoured by a larger and more successful neighbor. Irving gobbled up the communities of Kit and Sowers, leaving only a cemetery or two as evidence that these towns ever existed. Richardson encircled the semi-rural village of Buckingham and finally annexed it in 1996. As for Dallas, over the past 150 years, it devoured numerous towns and settlements throughout Dallas County, including Jimtown, Scyene, Lisbon, Vickery, Fisher, Letot, Oak Cliff, and what remained of a little French colony known as La Reunion. Small pond, meet big fish.
All the other towns have pretty much assimilated into Dallas without leaving any trace of their former selves, and that makes the story of La Reunion all the more fascinating to me. Settled in 1854 and officially founded the next year to serve as a communal society operating on the socio-economic principles espoused by French philosopher Francois Marie Charles Fourier, the town sat on the Trinity River, three miles west of what used to be the village of Dallas. 200 immigrants from France, Belgium, and Switzerland got the project started, and while some of the colonists moved on, there were enough new arrivals to keep La Reunion operating for approximately 18 months, with the population peaking at 350 in late 1856.
La Reunion had everything working against it. The limestone soil proved to be a constant frustration for agriculturists. The colony was plagued with ineffective leadership and disorganization, not to mention financial insolvency. On January 28, 1857, La Reunion was officially dissolved. A few holdouts purchased land on the La Reunion tract and made the site their permanent home, but most colonists either returned to Europe or resettled in Dallas, San Antonio, or New Orleans.
When Dallas expanded westward and swallowed what was left of La Reunion, the townsite was excavated for lime used in the manufacture of concrete, which was sorely needed by the growing city; in fact, the site of La Reunion was incorporated as the town of Cement City for a few decades. Reunion Tower and the now-demolished Reunion Arena were named after the old colony, but at first glance, there seems to be nothing left of La Reunion; instead, there are houses, schools, buinesses, and a golf course in Stevens Park. Walk through the golf course, and you'll see a stone erected by the Daughters of the American Revolution in 1924.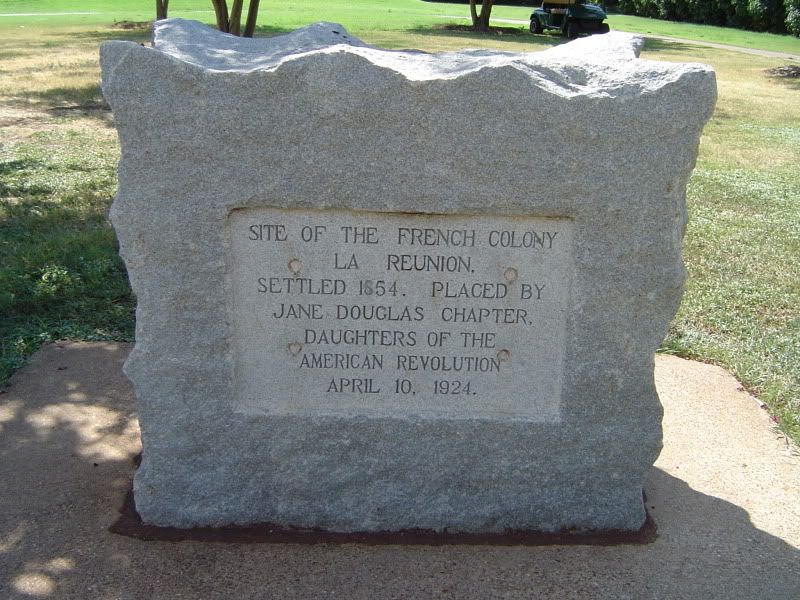 Granite DAR memorial at the Stevens Park golf course, marking the La Reunion site
The DAR memorial is a lovely tribute, but obviously not part of the original colony. For that, travel over to L.G. Pinkston High School at 3345 Fish Trap Road in Dallas and face northwest from the school. You'll be looking at a housing development, and right next to it there is a semi-neglected cemetery that was once known as Fish Trap Cemetery, but a historical marker within the chainlink fence surrounding the cemetery proclaims this the burial site for some of the La Reunion colonists: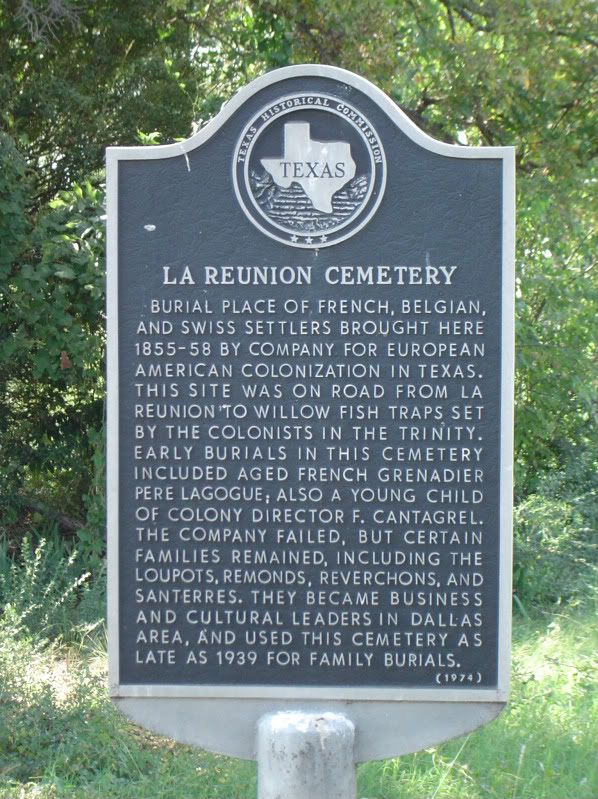 Historical marker for La Reunion Cemetery on Fish Trap Road in Dallas
According to a
Dallas Morning News
article on La Reunion Cemetery,
there has been considerable difficulty finding which agency is responsible for the cemetery's upkeep.
Some determined volunteers are doing what they can to tend to the cemetery, and once in a while, some enterprising ghost town chaser finds his way into the cemetery as well. Here are some of the graves at the site: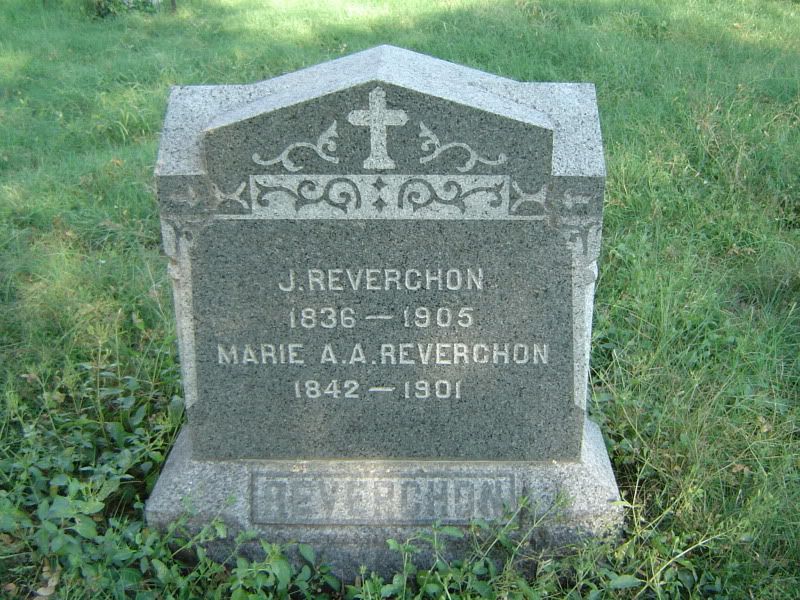 Tombstone for botanist Julien Reverchon and his wife Marie, both La Reunion colonists; Reverchon Park in Dallas is named in Julien's honor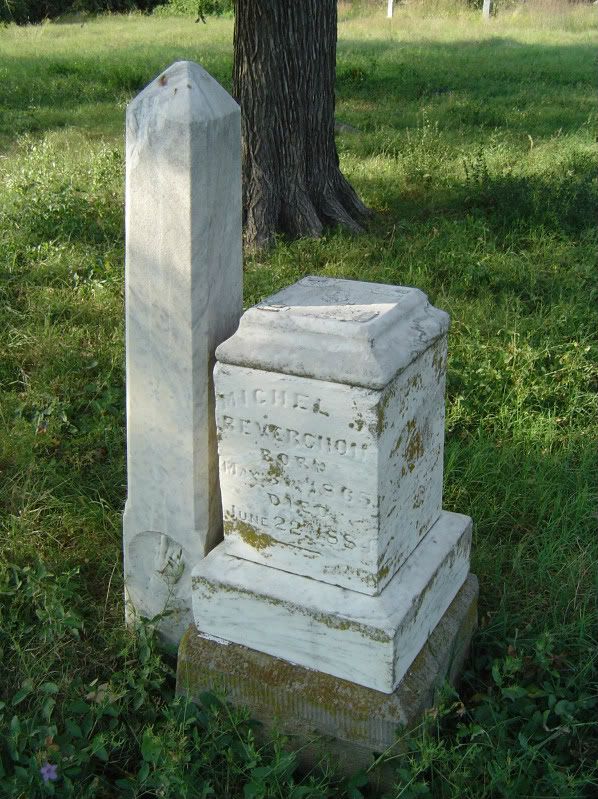 Broken grave marker for Michel Reverchon, son of Julien and Marie Reverchon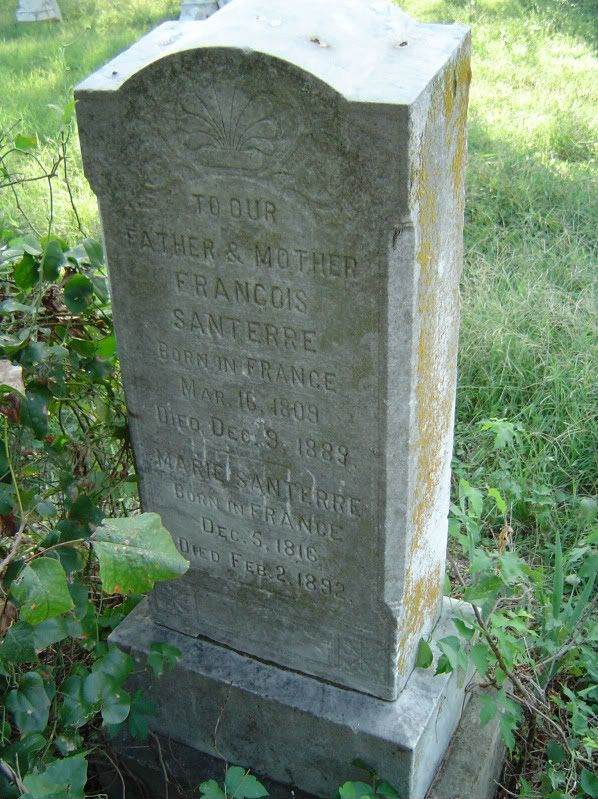 Francois Santerre, one of the most prominent La Reunion colonists, is buried here with his wife, Marie
Not everyone buried at La Reunion Cemetery, however, is a colonist or one of their descendants: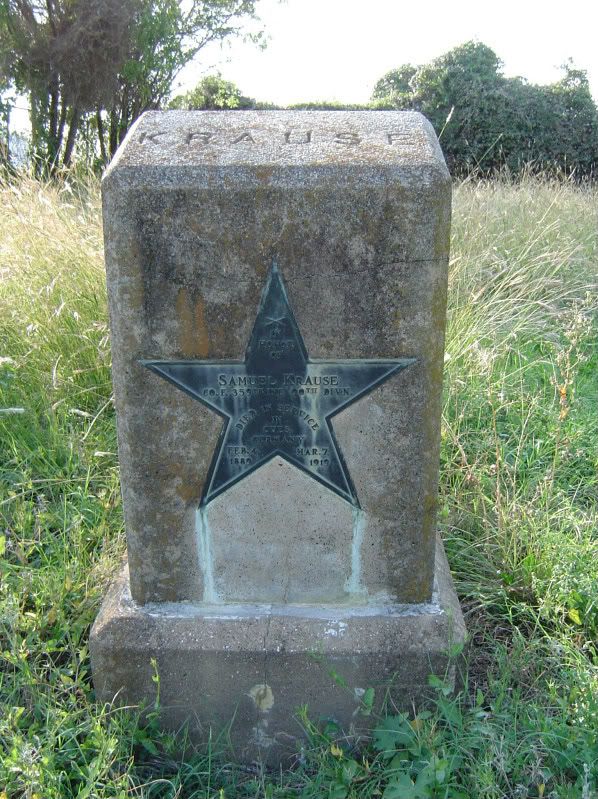 Grave of Samuel Krause, an uncle of Bonnie Parker; Bonnie herself was once interred here before being moved to Crown Hill Cemetery
But what of the ghost town itself? Other than the cemetery, does anything from La Reunion still survive? I'm going to let you in on a little secret: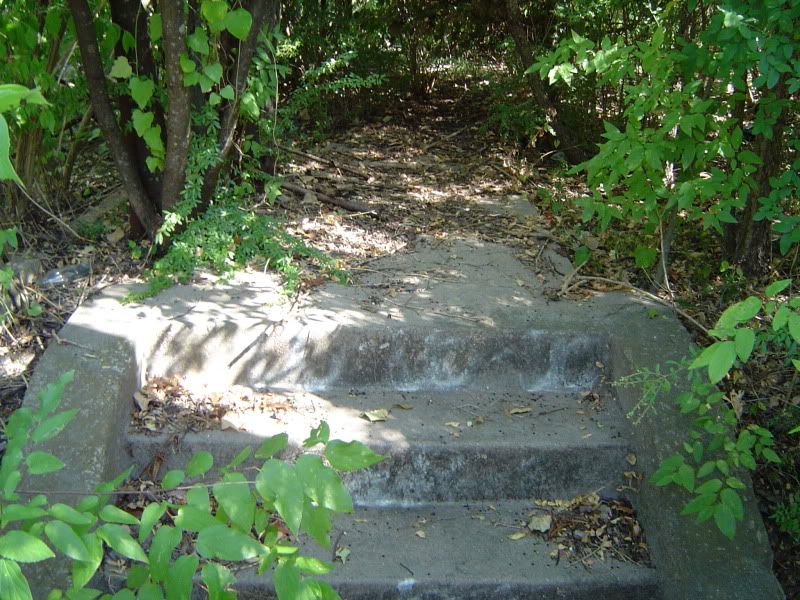 Front steps leading to the remains of the last remaining La Reunion house
Past these steps, on a sidewalk that is covered in dirt and choked with thick vegetation, there once stood a La Reunion colony house that survived all of its neighbors until it collapsed sometime in the 1930s. Even so, something still remains at the old homestead:
Small brick tower, part of the last La Reunion house
Where exactly are the remains of this ghost town house located? The precise location was known to a few schoolchildren in the area who would play there after school; supposedly there are a few more of these sites hiding throughout La Reunion. One of the children who knew of these ruins finally started spreading the word, and eventually the story reached me by means of the Internet, so I travelled to the La Reunion site and did a little exploring of my own until I found this. So I don't feel right just giving up the location, since a handful of Dallasites have made this their little secret. If you wish to find these ruins on your own, I offer this advice: Study the layout and history of La Reunion, drive and hike through the site of the old French colony, and keep your eyes open at all times.
One of these days, however, these last remnants of La Reunion may be swept away. The DAR memorial and the cemetery are safe, but there's a lot of money pouring into this area of Dallas, and with that money comes plans to redevelop the whole neighborhood. When that happens, the ghost town of La Reunion - which managed to survive all of its rivals for all these years - may be eradicated once and for all. So by all means, please go and explore this novel little corner of forgotten Texas history while you have the chance.
Happy Thanksgiving, everybody!